Frederick Douglass Biography
Frederick Douglass expressed one of his essential beliefs when he said, "I would unite with anybody to do right and with nobody to do wrong." Douglass was born a slave and spent his life working to end slavery and to create equality for everyone. His first autobiography, Narrative of the Life of Frederick Douglass, an American Slave, Written by Himself, was published in 1845. Many readers at the time suspected it was actually authored by a white man because no one expected such eloquence from a black writer. It became an enormous success and was reprinted nine times in three years and translated into numerous languages. Douglass wrote two other autobiographies, but neither was as successful or critically acclaimed as his first.
Facts and Trivia
In 1838, Douglass escaped slavery in an elaborate scheme where he wore a sailer's uniform and borrowed papers from a free African American seaman. In a journey that took less than twenty-four hours, he left Baltimore by train and traveled through Pennsylvania, Maryland, Delaware, and Philadelphia. He says that he did not feel safe until he reached New York City.
Douglass's second wife was a white woman named Helen Pitts. Their marriage was scandalous at the time because they were not of the same race, and because she was nearly twenty years his junior.
There is some discrepancy over when Douglass was born. He chose February 14 as his birthday and said he was born in 1816. Other accounts say he was actually born in 1818.
Douglass became an honorary member of the Alpha Phi Alpha fraternity posthumously in 1921.
Douglass was the first African American nominated for the office of Vice President of the United States.
Biography
(History of the World: The 19th Century)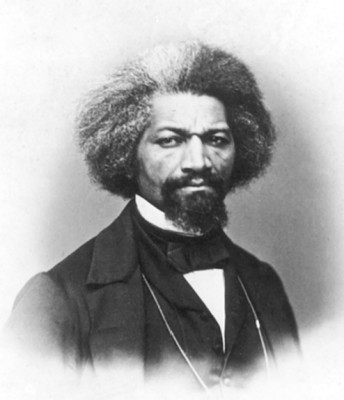 Article abstract: Douglass' lifelong concerns were with freedom and human rights for all people. He articulated these concerns most specifically for black Americans and women.
Early Life
Frederick Douglass was born a slave in Tuckahoe, Talbot County, Maryland, and originally was named Frederick Augustus Washington Bailey. He was of mixed African, white, and Indian ancestry, but other than that, he knew little of his family background or even his exact date of birth. Douglass believed that he was born in February, 1817, yet subsequent research indicates that he may have been born a year later in February, 1818. Douglass never knew his father or anything about him except that he was a white man, possibly his master. Douglass' mother was Harriet Bailey, the daughter of Betsey and Isaac Bailey. Frederick, his mother, and his grandparents were the property of a Captain Aaron Anthony.
In his early years, Frederick experienced many aspects of the institution of slavery. Anthony engaged in the practice of hiring out slaves, and Douglass' mother and her four sisters were among the slaves Anthony hired out to work off the plantation. Consequently, Douglass seldom saw his mother and never really knew her. The first seven years of his life were spent with his grandmother, Betsey Bailey, not because she was his grandmother but because as an elderly woman too old for field work she had been assigned the duty of caring for young children on the plantation.
The boy loved his grandmother very much, and it was extremely painful for him when, at the age of seven, he was forced by his master to move to his main residence, a twelve-mile separation from Betsey. It was there, at Anthony's main residence, that Douglass received his initiation into the realities of slavery. The years with his grandmother had been relatively carefree and filled with love. Soon, he began to witness and to experience personally the brutalities of slavery. In 1825, however, Douglass' personal situation temporarily improved when Anthony sent him to Baltimore as a companion for young Tommy Auld, a family friend. Douglass spent seven years with the Aulds as a houseboy and later as a laborer in the Baltimore shipyards. The death of Anthony caused...
(The entire section is 2,968 words.)