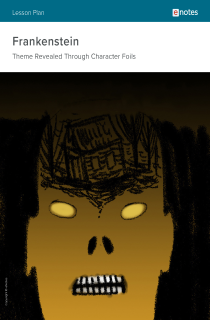 Frankenstein Character Analysis Lesson Plan
*This download is only available with the eNotes Teacher's Subscription
Purchase a Subscription






24 pages
Language Arts,
Literature
For:
Grade 9
Grade 10
Grade 11
Grade 12
Excerpt From This Document
Theme Revealed Through Character Foils:
This lesson plan focuses on Victor Frankenstein and Henry Clerval as character foils. Students will learn about character foils by identifying similarities and differences between Victor Frankenstein and Henry Clerval and considering how each character values ambition, education, love, and compassion. By studying Victor and Henry as character foils, students will be better able to describe how their traits and behaviors advance some of the novel's major themes—notably, the pursuit of individual gain versus selfless compassion.
Learning Objectives: 
By the end of this lesson, students will be able to
define and explain literary foils and describe Victor Frankenstein and Henry Clerval as character foils;
compare and contrast Victor's and Henry's feelings, thoughts, and behaviors at key turning points in the novel;
identify and describe major themes that emerge through Shelley's characterization of Victor and Henry. 
Skills: close reading, character analysis, contrasting, drawing themes from the text, collecting evidence through internal research
Common Core Standards: RL.1, RL.3, SL.1
Introductory Lecture:
Mary Shelley's Frankenstein; or, The Modern Prometheus is widely read and praised today, but when it was first published in 1818 it received harsh criticism. In response to protagonist Victor Frankenstein's blasphemous act of bestowing life on an inanimate creature, John Wilson Croker of The Quarterly Review declared the novel a "tissue of horrible and disgusting absurdity." Author and critic Sir Walter Scott found fault with the novel's sheer improbability, though he was impressed by the author's writing style. When it was revealed that Frankenstein, which was initially published anonymously, was written by Mary Shelley, critics generally attributed the novel's flaws to the sex of its author.
Frankenstein is a gothic novel that incorporates horror and supernatural forces to tell the story of a scientist whose preoccupation with finding the secret of life leads to death and destruction. The novel's premise arose when Mary Shelley, Percy Bysshe Shelley (her husband), and close friend Lord Byron held a competition to determine which of them could write the best ghost story. Mary Shelley imagined a mad scientist who animates a monster in his laboratory and immediately abhors his creation. Shelley eventually transformed the tale into the text we are familiar with today.
The novel focuses primarily on Victor Frankenstein and his creature, in its exploration of the ethical ramifications of scientific experimentation and the manipulation of nature. However, the novel's ambivalence towards ambition, education, science, and technology also subtly plays out in the relationship between Victor Frankenstein and his best friend, Henry Clerval. Victor, who narrates the majority of the novel, is a driven and intelligent scientist who embodies intense intellectual drive, selfishness, and isolation—all qualities that Shelley seems to associate with the Enlightenment and the ethos of scientific advancement. Henry Clerval is also driven and intelligent, but he strives to be of service to others instead of chasing success at all costs. He symbolizes compassion, selflessness, and connectedness—all moral, rather than intellectual, virtues. Comparing and contrasting Victor Frankenstein and Henry Clerval thus invites readers to question the worth of personal achievement. Ultimately, the importance of selflessness, compassion, and helping others emerges as a primary theme in the novel.
Note: This lesson plan refers to the revised 1831 edition of Frankenstein.
About this Document
Our eNotes Lesson Plans have been developed to meet the demanding needs of today's educational environment. Each lesson incorporates collaborative activities with textual analysis, targeting on discrete learning objectives. We've aligned all of these lessons to particular Common Core standards, and we list the specific standard met by each lesson. The main components of each plan include the following:
An introduction to the text
A step-by-step guide to lesson procedure
Previous and following lesson synopses for preparation and extension ideas
A collection of handouts and worksheets complete with answer keys
Each of these lesson plans focuses on promoting meaningful interaction, analytical skills, and student-centered activities, drawing from the Common Core Standards for English Language Arts and the expertise of classroom teachers. Each lesson includes an instructional guide on how to present the material, engage students in an activity, and conclude the class.