Biography
(Masterpieces of Fiction, Detective and Mystery Edition)
Francis Richard Stockton was born on April 5, 1834, in Philadelphia, the third child of Emily Hepzibeth Drean and William Smith Stockton, one of what would be a family of six children in addition to his father's seven children by a previous marriage. His mother was a school administrator and his father a conservative religious writer. Stockton was born with one leg shorter than the other, an infirmity that kept him out of the Civil War. His family was torn by divided loyalties during the war. Frank sympathized with the South and privately printed "A Northern Voice Calling for the Dissolution of the Union," but his aged father, a fire-and-brimstone Methodist, was an avid abolitionist. Ironically, the father's self-righteousness drove his younger sons to the opposite extreme: They became the community pranksters, and Frank in particular became so disenchanted with his father's stern faith that he turned to an absurdist's view of universal chaos.
Stockton attended public schools in Philadelphia, wrote some juvenile poetry, and won a prize in a story contest. After graduation from high school in 1852, he became a wood engraver and draftsman, though he kept up his literary interests as a member of the Forensic and Literary Circle. He began writing magazine stories for children and then humorous novels, stories, and sketches. During this period, he focused mainly on fairy tales, but eventually he progressed to more realistic stories, yet ones infused with elements of fancy. In September, 1855, his first published story, "The Slight Mistake," appeared in the Philadelphia American Courier, and his second, "Kate," in the Southern Literary Messenger.
On April 30, 1860, Stockton was married to Marian (Mary Ann) Edwards Tuttle, a teacher, and he established an engraving office in New York. After his father's death he turned to journalism, freelancing for several newspapers and periodicals. He joined the staff of Hearth and Home in 1869, and the editorial staff of Scribner's Monthly (later Century) in 1872.
Serving as assistant editor for St. Nicholas from 1873 to 1881 opened new doors for Stockton, and offered him the chance to reconsider his own efforts. Consequently, he began to write longer works, producing his first novel, What Might Have Been Expected, in 1874. When he was struck by blindness in 1876, he began to consider an alternative future. By 1878 it was clear that his vision was permanently impaired, despite recuperative trips to Virginia, Florida, and Nassau, so Stockton retired.
After a two-year stint in Europe, Stockton produced "The Lady, or the Tiger?" the success of which encouraged him to become a full-time author of short stories and novels. Ironically, however, that very success made it more difficult for him to publish for a while, for editors returned manuscripts with the comment that they failed to maintain the high standards the public demanded after "The Lady, or the Tiger?" Nevertheless, three collections of short stories published in 1884 led many to consider Stockton the leading American humorist of the 1880's.
In April, 1902, Stockton was stricken with a cerebral hemorrhage during a National Academy of Sciences banquet in his honor; he died a few days later. Mark Twain was one of the mourners at his funeral.
Biography
(Literary Essentials: Short Fiction Masterpieces)
Frank R. (Francis Richard) Stockton was a descendant of American pioneers, one of whom, Richard Stockton, had been one of the signers of the Declaration of Independence. The third son of nine children, he was expected to become a doctor. Instead, upon graduating from high school he studied wood engraving, at which he was proficient enough to support himself until he was thirty-two, when he decided to become a journalist. Until 1880 he specialized in children's stories; then he began writing for adults, although the tone and the situations were not much different from his earlier works. He completed more than a dozen novels, comedies, satires, scientific speculations, and whimsies.
Biography
(Great Authors of World Literature, Critical Edition)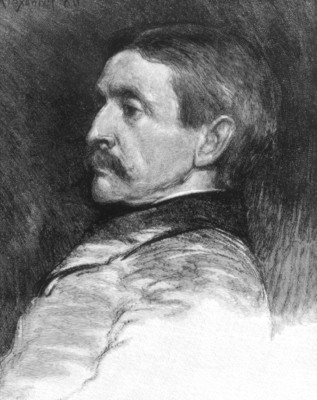 (The entire section is 2,853 words.)