Biography
(Masterpieces of American Literature)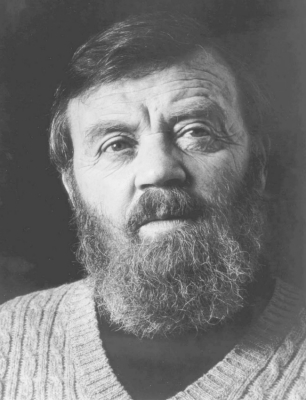 Farley Mowat was born in Belleville, Ontario, on May 12, 1921, to Helen and Angus Mowat, both of Scottish ancestry. Farley was an adventurous child and a dedicated reader by age six. When Angus moved his family to Windsor in 1930, Farley was complementing James Fenimore Cooper and Ernest Thompson Seton with rambles around the city's hobo jungles and collections of wildlife (for example, Limpopo, a six-inch Florida alligator) and moths. A romantic move to Saskatchewan in a ship's cabin mounted on a Model T truck and a trip to Vancouver Island were followed in 1936 by an expedition to the Arctic with the ornithologist Frank Farley, his great-uncle, who taught him to collect bird nests and eggs on the tundra. Farley met his first Indians on this trip and was shocked by the brutal rifle assaults on the friendly whales around Churchill. In 1937, the Mowats resettled near Toronto, where Farley devoted much time to studying birds as a prelude to a two-month field trip to Saskatchewan to undertake an ornithological survey.
Mowat grew up fast during World War II, when he served as a brigade intelligence officer engaged in hard combat in Sicily and Italy. Discharged in 1946, he enrolled at the University of Toronto and in 1947 accompanied Francis Harper, a Pennsylvania biologist, to Canada's Keewatin District. Returning to Toronto that fall, Mowat married Frances Elizabeth Thornhill, a classmate. The trip with Harper inspired the first half of People of the Deer (1952), and a second trip, in 1948, partially funded by the Dominion Wildlife Service, exposed him to the suffering among the Ihalmiut that he was to recount in The Desperate People (1959). His long absences damaged his marriage, and in 1951, after two years in Palgrave, Ontario, in a house without running water, Fran was ready to leave. The publication in 1952 of People of the Deer provoked a controversy that reached the House of Parliament in Ottawa but to no effect, and the Ihalmiut were dismissed by Dr. A. E. Porsild of the Department of Resources and Northern Affairs as the product of Mowat's imagination.
During the 1950's, Mowat involved himself in left-wing causes; fathered a son, Robert Alexander, and adopted another, David; and struggled with his writing. He made his first visit to Newfoundland in 1957 but in 1958 was back in the Barrenlands investigating the plight of the Ihalmiut, a project that led to The Desperate People. With an old army friend, Mike Donovan, Mowat sailed in June, 1960, to the French-owned islands of Saint Pierre and Miquelon just off Newfoundland's northeast coast. He soon began an intense affair with a twenty-seven-year-old art student from Ontario, Claire Wheeler, and after an escapist interlude in England, they settled in at Burgeo, Newfoundland, where Mowat wrote the immensely successful Never Cry Wolf (1963). In 1965, Mowat obtained a Mexican divorce and soon married Claire before returning to Burgeo and starting a bitter feud with Joey Smallwood, the premier who had led Newfoundland into the Canadian Confederation. The Luddite Mowat opposed Smallwood's efforts to modernize, but he gave up this battle to travel to Siberia to study the Soviets' management of that great natural icebox.
The period from 1967 through 1977 demonstrated no coherent unity of purpose and was marked by travels to Europe, difficulties with publishers, outbursts of antagonism toward the United States for its Vietnam War, support for groups that opposed whale hunting and seal clubbing, and struggles with various writing projects. His relationship with his parents grew more complicated as Angus abandoned Helen for Barbara Hutchinson, a Toronto librarian. The filming of Never Cry Wolf in 1981 provided a pleasant interlude, as did a trip to Scandinavia with the governor-general of Canada Ed Schreyer and his wife. By 1984, two books decrying humankind's inhumanity to humans and to other animals—And No Birds Sang (1979) and Sea of...
(The entire section is 2,295 words.)