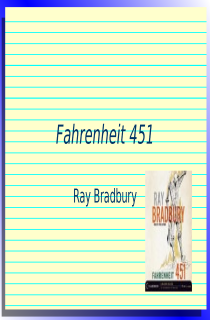 Excerpt
The Author: Ray Bradbury
Born August 22, 1920, in Waukegan, IL
Many of his stories are set in small towns similar to Waukegan
In 1934, his family moved to Los Angeles
Bradbury graduated from high school in 1938, where his formal education ended
"A Student of Life"
Although his education ended once he graduated high school, Bradbury became a "student of life" selling newspapers on LA street corners from 1938-1942
He spent his free time researching and writing
His first short story "Hollerbochen's Dilemma" was published in 1938
His first collection of short stories, Dark Carnival, was published in 1947
Bradbury & Science Fiction
In 1937, Bradbury joined the Los Angeles Science Fiction League
In 1950 when The Martian Chronicles was published, Bradbury was hailed as a sophisticated Sci-Fi writer
He uses science fiction framework to discuss issues like censorship, technology, racism, and nuclear war.
Popular Works
The Illustrated Man (1951)
Something Wicked This Way Comes (1962)
Dandelion Wine (1957)
Published more than thirty books, close to 600 short stories, and numerous poems, essays, and plays. His short stories have appeared in more than 1,000 schools recommended readings
Many of his stories have been televised on shows like The Twilight Zone, Alfred Hitchcock Presents
Personal
In 1947, Bradbury married Maggie, and they had four daughters, eightgrandchildren and many cats!
Maggie passed away in 2003
About
This is a powerpoint about the novel and Ray Bradbury.