Biography
(Great Authors of World Literature, Critical Edition)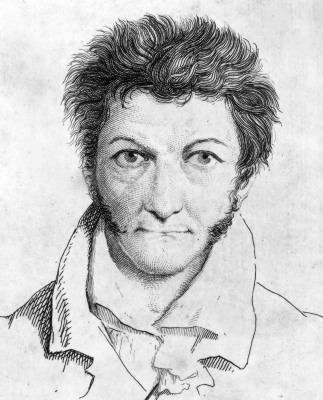 Ernst Theodor Wilhelm Hoffmann (HAWF-mahn) assumed his pen name, E. T. A. Hoffmann, in which the A stands for Amadeus, out of admiration for the composer Wolfgang Amadeus Mozart. Hoffmann was at one time probably the most influential German author both in his own country and elsewhere; Heinrich Heine, Gottfried Keller, Theodor Storm, Théophile Gautier, Honoré de Balzac, Alfred de Musset, and Edgar Allan Poe were all indebted to him, and Jacques Offenbach wrote an opera based on his tales. An instigator of the Romantic movement, Hoffmann led the way toward an incorporation of fantasy as an ingredient of everyday life, by introducing not only supernatural events but also abnormal states of mind into otherwise realistic depictions.
Hoffmann, a diligent government official in the Prussian judiciary for most of his life, turned his artistic attention first to becoming a theater director and composer; the opera Undine survives as his most important musical work. Also a successful illustrator and caricaturist, he did not fully embark on a literary career until after the appearance in 1814 of the first tales that would make up Fantasy Pieces in Callot's Manner, when he was already thirty-eight years old. These stories were followed by a story of temptation and sin, The Devil's Elixirs, in 1815-1816. In The Serapion Brethren, he collected previously published tales and framed them with commentary by members of a literary club such as the one he had formed in Berlin. The Life and Opinions of Kater Murr was a veiled self-depiction cast in the form of a double novel about a romantic composer and a literary tomcat. In his most effective stories Hoffmann wrote of the region between fact and belief, using ghosts, clairvoyants, hypnotism, and psychological abnormality to turn the plot. He continues to be regarded as a foremost master of the fantastic tale.
Biography
(Literary Essentials: Short Fiction Masterpieces)
Ernst Theodor Amadeus Hoffmann's parents, of Polish-Hungarian background, were divorced when he was only two. As a child he received private tutoring in painting and piano. He studied law at the University of Königsberg and passed a government examination in 1795, but he gave private music lessons until his second exam in 1798, when he was assigned to courts in Berlin, then in Posen. In 1802, he was given a punitive transfer to a small town, Plock, for having drawn caricatures of Prussian officers, and there he married a Polish girl, Michelina Rohrer-Trzcinka, who remained his wife to the end. In 1806, Napoleon's army occupied Warsaw, and Hoffmann, like other Prussian officials who refused to sign an oath of allegiance to the French, lost his position and returned to Berlin, where he endured a year of hunger and hardship. From 1808 to 1812, Hoffmann worked with the Bamberg Theatre, first as orchestra-director, then as composer, stage-designer, and general assistant, during which time he had a serious platonic love affair with his teenage music student Julia Marc, who appears frequently in his fiction. In 1813, Hoffmann worked for the theater in Dresden and witnessed the siege of the city by the French forces. Reemployed by the Prussian bureaucracy from 1815 until his death, Hoffmann displayed great civil courage in opposing the "persecutions of demagogues," notably "Father" Jahn, a pioneer in athletics. For satirical passages against the chief prosecutor in his work Master Flea, Hoffmann was subjected to an investigation which lasted until his death from a paralytic disease on June 25, 1822. Contrary to the traditional image of him as a shiftless alcoholic, Hoffmann was a highly capable, conscientious, and just court official.
Biography
(Survey of Novels and Novellas)
Ernst Theodor Wilhelm Hoffmann—who in later life replaced his third baptismal name with Amadeus, in honor of Wolfgang Amadeus Mozart—was born in Königsberg, then the capital of East Prussia, now a Russian city known as Kaliningrad. The disastrous marriage between his father, an alcoholic lawyer, and his mother, a...
(The entire section is 1,288 words.)