Ernest Renan
(History of the World: The 19th Century)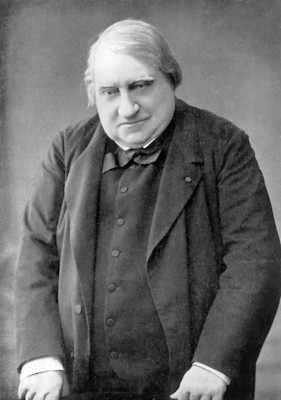 Article abstract: Renan's writings encompass the areas of religion, history, science, and morality. His controversial biography of Jesus Christ illustrates Renan's ongoing theme of resolution of contradictions by emphasizing the problem of reconciling the historical and the spiritually divine Jesus.
Early Life
Joseph-Ernest Renan was born in Tréguier, a town in Britanny that was in many respects a religious center. His youth was shaded by a veil of devout Catholicism, to which he, in accordance with his mother's most intense wishes and his own strong inclinations, was committed. His father, Philibert, was a grocer and seaman. His mother, Magdelaine Féger, was widowed when Ernest was five years old, her husband having drowned—it has not been determined whether accidentally or otherwise—at sea. Ernest Renan had a brother, Alain, born in 1809, and a sister, Henriette, born in 1811. His sister was profoundly influential in his life, and his attachment to her is lyrically expressed in Ma Sœur Henriette (1895; My Sister Henrietta, 1895), which was initially published in a limited edition of one hundred copies in 1862 as Henriette Renan: Souvenir pour ceux qui l'ont connue (Henriette Renan: a remembrance for those who knew her) and reprinted posthumously.
From 1832 to 1838, Renan was a student at the Ecclesiastical School in Tréguier, while his sister, having failed to establish a private school for girls, accepted a teaching position in Paris. In 1838, Renan moved to Paris and studied rhetoric at the seminary of Saint-Nicolas du Chardonnet. After three years, he moved to the seminary of Issy-les-Moulineux outside Paris, where his study of philosophy began to bring about his wavering in religious faith. His sister, with whom he was to maintain an ongoing correspondence, had moved, during this time, to Poland, where she found employment as a governess. From Issy-les-Moulineux, he moved in 1849 to the parent seminary of Saint-Sulpice and entered upon his study of theology.
In his academic progression from rhetoric to philosophy to theology, the normal pattern of seminary education in France, Renan developed a devotion to literature, a skeptical turn of mind, and a sense of alienation in his separation, first, from Britanny and, later, from his mother. He remained firmly within his faith, however, and in 1844 became a tonsured cleric in evidence of his call to the priesthood. After a year, he came to realize that he lacked belief sufficient to this vocation, and his rationalism and scientific propensity led him to abandon the ecclesiastical for the secular life. His sister Henriette supported him in his decision and commended his firmness of purpose and strength of will.
He then set his life's course toward reconciling the two worlds which, as he assured his mother in her disappointment, were not, to his mind, separate. The world of Jesus (the world of religion) and the world of science contradicted each other but were not mutually exclusive. To his own way of thinking, he had departed from Jesus so as to be better able to follow Jesus.
Life's Work
In 1845, at the age of twenty-two, Renan, believing that his own emotions and his own thoughts were his God, became a tutor, an ultimately successful candidate for the baccalauréat and licence (roughly equivalent to the B.A. and M.A. degrees in the United States), a friend of the chemist Marcellin Berthelot, and a student of the Semitic languages (of which he was soon to become a professor). Two years later, he won the Volney Prize for his essay on the history of the Semitic languages. His friendship with the scientist, which proved to be lifelong, and his own predilection for science, along with his Semitic studies, adumbrated his major contributions to intellectual history and to the history of ideas; these are his Historie des origines du christianisme (1863-1882; The History of the Origins of Christianity, 1890) and L'Avenir de la science
(The entire section is 2,737 words.)