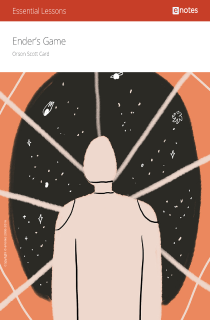 Ender's Game eNotes Essential Lessons
by eNotes
Release Date: February 12, 2019
Age Levels: Grade 10 and Grade 9
Pages: 94
Purchase a Subscription
Excerpt
Each of the following lessons is geared to a specific skill category and Common Core standard. It includes a step-by-step guide to teaching the lesson as well as handouts, assessments, modification, and enrichment activities. The lessons follow the chronology of the story of Ender's Game.
Lesson 1: Selecting a leader
Lesson 2: Technology and writing
Lesson 3: Characterization of Peter and Valentine
Lesson 4: Manipulative characters
Lesson 5: Foreshadowing
Lesson 6: Ender's isolation
Lesson 7: Letter home from Battle School
Lesson 8: How are the teaching styles of Bonzo and Rose the Nose different?
Lesson 9: What is a pseudonym?
Lesson 10: Understanding allusions to Locke and Demothenes
Lesson 11: Examining writing style
Lesson 12: Music connection
Lesson 13: "Othering"
Lesson 14: Examining characters
Lesson 15: Ender's leadership qualities
Lesson 16: Changing relationships
Lesson 17: Final seminar discussion
About
Essential Lessons have been developed to teach students key reading skills. Whereas many lesson plans focus on the comprehension of a single text, eNotes Essential Lessons build the expertise that enables students to understand a variety of texts. Using an exemplar text as a guide, the Essential Lesson teaches students to perform textual analysis, develop an argument, and connect style, structure, and theme.
Essential Lesson Plans have been developed by experienced teachers who shared their best ideas for how to engage students, optimize their lesson time, and instill fundamental reading skills. These are tried and tested practices that have successfully advanced students' comprehension of complex literary works and prepared them for the reading they will do as college students and adults.
Each lesson begins with an introduction that highlights the skill category and objectives of the lesson. The skills are designed to deepen understanding of the work currently being studied as well as other texts that the student encounters in his or her future reading. All of our lessons are aligned to Common Core standards, and we list the specific standards that are met by each lesson.
Each lesson also includes an instructional guide that provides step-by-step directions on how to present the material, engage students in an activity, and conclude the class. We have included suggestions on how to modify and enhance the material, as well as an assessment for student work. Many of the lessons also include handouts that can be photocopied and implemented in the classroom.
We hope you and your students enjoy these lessons. Our goal is to provide an effective, engaging experience in the classroom and develop the skills that will enable students to be lifelong readers.