Other Literary Forms
(Literary Essentials: Short Fiction Masterpieces)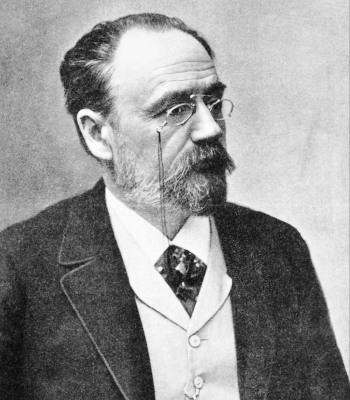 Émile Zola is principally remembered as a novelist and also as the flamboyant journalist who took up the defense of Captain Alfred Dreyfus during the celebrated trial of the young Jewish officer which transfixed French society at the end of the nineteenth century. In addition to novels and journalistic essays, he is the author of numerous plays, essays, literary and artistic criticism, and an early youthful attempt at poetry.
Achievements
(Literary Essentials: Short Fiction Masterpieces)
Émile Zola will always be associated with the school of naturalism in France. He became the most widely read author at the beginning of the twentieth century, in part because of the sensationalism of his subjects, in part because of his early training as a public relations clerk. Because of his immense success, his aesthetic ideas were widely circulated, and a group of disciples was formed at Zola's country home outside Paris at Médan. Inspired by the medical advances made possible by scrupulous observation combined with precise analytical techniques, Zola proposed literature as a means of experimenting on humans. He specifically was interested in determining what happens when their environment is changed or their heredity tampered with; what would be the result of humans' gradual addiction to certain chemical compounds? When the literary subject matter was the lower class, envisioned is the unhealthy and the immoral side by side. One of his best known novels, L'Assommoir (1877; English translation, 1879), attempts to examine the effects of alcohol on the working class. Other works examine prostitution, political power, industrial power (the locomotive), and capitalism.
Other Literary Forms
(Critical Edition of Dramatic Literature)
Émile Zola is known principally as a novelist and as the formulator of the literary movement known as naturalism, which proposed to examine the human species by observing scientifically, through the medium of a literary work, the effects of heredity and environment. Zola's first major novel was Thérèse Raquin (1867; English translation, 1881), followed by the twenty-novel cycle of Les Rougon-Macquart (1871-1893; The Rougon-Macquart Novels, 1885-1907), including such well-known novels as Germinal (1885; English translation, 1885), L'Assommoir (1876; English translation, 1879); and Nana (1880; English translation, 1880). Near the end of his life, he wrote two shorter series of novels, Les Trois Villes (1894-1898; The Three Cities, 1894-1898); and Les Quatre Evangiles (1899-1903; English translation, 1900-1903), which are both more visionary and idealistic than the realistic, earthy Rougon-Macquart novels. Less well known are his short stories, several of which were dramatized during Zola's lifetime. As a journalist and art critic, Zola was an early supporter of the Impressionist painters, but he dealt harshly with the popular playwrights of his day. In addition to his literary and critical works, Zola is remembered for his defense of Alfred Dreyfus in the famous newspaper article, "J'accuse" ("I Accuse"). Had Zola not so forcefully put his suspicions before the public, the case of the wrongfully convicted Dreyfus might never have been reopened nor the innocent man acquitted.
Achievements
(Critical Edition of Dramatic Literature)
Émile Zola was never as skillful a dramatist as he was a novelist. In fact, none of his plays can be said to have achieved lasting success, although many of his novels and short stories have been successfully adapted for stage and film. His achievement in drama lies in the changes he was able to bring to the theater at a time when the stage was dominated by the pièces à thèse ( problem plays) of Alexandre Dumas, fils, Victorien Sardou, andÉmile Augier. The well-made play of the time was most often a neatly constructed illustration of a moral homily . Although these plays had once seemed modern and true to life, by comparison with the romantic plays of the early nineteenth century (such as those by Alexandre Dumas, père), they now seemed to Zola to be overly artificial and tritely idealized. By...
(The entire section is 2,860 words.)