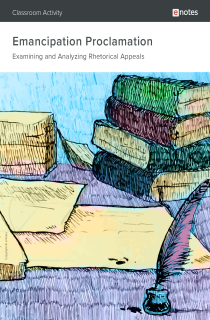 Emancipation Proclamation Rhetorical Analysis Activity
*This download is only available with the eNotes Teacher's Subscription
Purchase a Subscription






10 pages
For:
Grade 9
Grade 10
Grade 11
Grade 12
Excerpt From This Document
This activity gives students an opportunity to practice examining and analyzing rhetorical appeals. Effective appeals address all aspects of the rhetorical situation in any text or speech: the speaker, the audience, and the message. With this rhetorical situation in mind, Aristotle sought a means to most effectively convey ideas. He identified three general persuasive strategies, known as appeals, that address the three elements of the rhetorical situation: ethos, the appeal to the speaker's authority; pathos, the appeal to the audience's emotions; and logos, the appeal to the message's logic. In completing this activity, students will be able to examine and analyze Aristotle's three rhetorical appeals in order to evaluate works of rhetoric and the techniques they employ.
The Emancipation Proclamation, first published in September, 1862, and finally enacted on January 1st, 1863, was a landmark document that freed all American slaves in the Confederacy in the midst of the Civil War. Lincoln had several reasons for doing so: to unite the country under a single anti-slavery policy, to advance the cause of civil rights, and to cripple the slave-based Southern economy. Much of the rhetorical power of the proclamation, however, comes from the fact that Lincoln largely avoids explaining and justifying his decision to free the slaves. Instead, he simply declares them free and devotes his rhetorical attention—appealing to ethos, pathos, and logos—to proving that he possesses the power to do so.
Skills: analysis, close reading, drawing inferences from a text, examining the impact of diction on audience
Learning Objectives:
In completing this activity, students will
examine appeals in a text;
classify appeals in a text as ethos, pathos, or logos;
distinguish the methods that make the appeal effective;
evaluate how the appeal contributes to the overall message.
About this Document
Our eNotes Classroom Activities give students opportunities to practice developing a variety of skills. Whether analyzing literary devices or interpreting connotative language, students will work directly with the text. The main components of our classroom activities include the following:
A handout defining the literary elements under discussion, complete with examples
A step-by-step guide to activity procedure
An answer key or selected examples for reference, depending on the activity
In completing these classroom activities, students will be able to classify and analyze different literary elements, thereby developing close-reading skills and drawing deeper inferences from the text.