Biography
(Masterpieces of American Literature)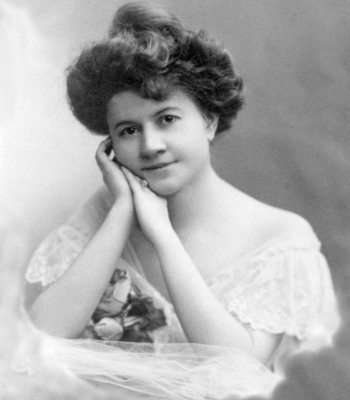 Ellen Glasgow was born in Richmond, Virginia, on April 22, 1873, to Anne Jane Glasgow and Francis Thomas Glasgow, manager of Tredegar Iron Works. Ellen was the eighth of ten children. During her childhood, she was particularly sensitive to the nervousness and depression from which her gentle, aristocratic mother suffered, undoubtedly the result of Anne Glasgow's almost incessant childbearing. This experience was to motivate Ellen's later work for women's rights and was clearly reflected in her fiction.
Ironically, in temperament, Glasgow was more like her father than her mother. Even though she rejected her Calvinistic faith, she retained a strong ethical sense, which is evident throughout her works. Furthermore, her own fierce independence of thought and rebelliousness of spirit were the very qualities which had motivated her Presbyterian ancestors in their defiance of monarchs.
In lieu of formal instruction, Glasgow was educated by relatives and, perhaps even more important, was allowed to choose books at will from her father's extensive library. When she was still a child, she began to write. Although later she accused her family of lacking sympathy for her ambitions, Glasgow was probably exaggerating their unkindness. Always delicate, always aware of her mother's unhappiness, Glasgow seemed destined to develop a sense of alienation. Even while she was flirting and dancing at the innumerable balls to which a young lady of a good Richmond family would be invited, she was becoming more and more convinced that her real interests were creative and intellectual.
Guided by George Walter McCormack, the husband of her sister Cary Glasgow McCormack, Ellen read the works of philosophers, economists, playwrights, and novelists. She also continued to write. When she was eighteen, she took a novel that she had written to a New York agent, but when he made advances to her, she was so angry that she destroyed the manuscript. When Glasgow was twenty, she was so shattered by her mother's sudden death from typhoid fever that she destroyed the manuscript of another novel. Fortunately, after two years had passed, she reconsidered and reconstructed the work. This novel, her first full-length work to be published, The Descendant, appeared anonymously in 1897.
With its illegitimate, politically radical hero and its independent, art-student heroine, both southerners in New York, The Descendant was a marked departure from the sentimental, nostalgic novels which had come to be expected from southern writers. The book was well received and sold well. It was followed in 1898 by Phases of an Inferior Planet, which took another young southern woman, in this case a singer, to New York and explored her doomed relationship with another intelligent, alienated hero. Partly because of inherent flaws, partly because of her publisher's failure to advertise it, Phases of an Inferior Planet was unsuccessful.
For the setting of her third book, Glasgow wisely turned back to her native Virginia. The Voice of the People (1900) is significant because it is the first of a series of novels that analyze Virginia society rather than simply voicing Glasgow's anger with the social and religious expectations which threatened her freedom. In later works, Glasgow viewed her society from various angles. In The Battle-Ground (1902), she turned back to the Civil War period for her story, and in The Deliverance (1904), she wrote about the Reconstruction era. In neither book was there any regret for the loss of what she saw as a social structure based on repression and one that had condemned its women to frustration and despair.
Despite problems with her hearing, which were to culminate in total deafness by the time she was forty, Glasgow later called the period between 1899 and 1905 the happiest of her life. Her works were best sellers, as well as critical successes. She was being compared with such literary giants as American writers...
(The entire section is 2,477 words.)