Biography
(History of the World: The 19th Century)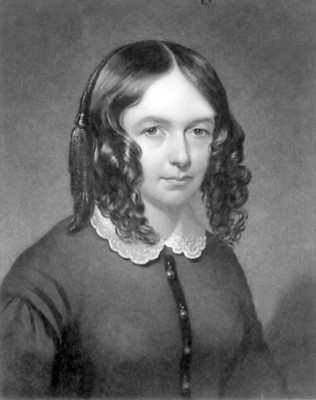 Article abstract: Browning was the most respected woman poet of the Victorian age. Her work is known for its formal iconoclasm, impetuosity of tone, and political content.
Early Life
Elizabeth Barrett was the eldest of the eleven children of Edward Moulton Barrett and Mary Graham Clarke. She grew up at Hope End, a large country house in Herefordshire. Both parents, but especially her father, encouraged her to read widely; unlike most privileged girls of her time, she was allowed free use of her father's library and shared her brothers' classical tuition. Her father arranged for her epic poem The Battle of Marathon (1820) to be privately published when she was fourteen.
In 1821 Elizabeth suffered a severe but unexplained illness that affected her spine and lungs and left her a semi-invalid for the rest of her life. During the 1830's, she produced her first successful poetry: The Seraphim and Other Poems (1838) was well received and gained its author considerable notice. At about the same time, her health broke down, and she traveled from London to the milder climate of Torquay to recover. During her convalescence, she begged her favorite brother Edward ("Bro") to visit her in Torquay; while there, he drowned on a sailing excursion. Elizabeth's grief and guilt were so overwhelming that for the rest of her life she could never speak or write of the event.
Somewhat recovered but still very much an invalid, Elizabeth returned to London in 1841 and plunged into literary work. In 1844 her popular two-volume Poems, by Elizabeth Barrett Browning appeared. One poem in this collection, "Lady Geraldine's Courtship," referred favorably to the work of then little-known poet Robert Browning. He wrote to thank her, and they began a correspondence that led to their first meeting four months later. For over a year they wrote to each other daily (sometimes twice daily). Elizabeth's father had forbidden any of his children to marry, so Elizabeth and Robert married secretly and left for Italy in 1846. They settled in Florence, in Casa Guidi, where their son Pen was born in 1849 and where they lived for the rest of Elizabeth's life.
Life's Work
During the 1840's and 1850's, Elizabeth Barrett Browning's major works appeared, and her poetic reputation reached its height. Her 1844 Poems, by Elizabeth Barrett Browning contain multiple voices, styles, and subjects. She experiments boldly with form, especially half-rhymes, metrical irregularities, neologisms, compound words, and lacunae. These experiments at once pleased, intrigued, infuriated, and disturbed her contemporary readers. More recently, they have been seen (by Virginia Woolf and others) as formative influences on later poets and harbingers of literary modernism.
In 1850 Browning published a collection of her poetry, including the 1844 poems plus some new material such as the famous Sonnets from the Portuguese, written secretly to her husband during their courtship. These poems are by far her most well known, less for any intrinsic artistic excellence than for their abiding romantic and psychological portrait of developing love. They trace the emotional state of the poet—a thirty-nine-year-old invalid wooed by a younger man—from surprise, reluctance, and confusion to passion, trust, and hope for the future.
In addition to the sonnets, the 1850 Poems includes two poems focused on social issues. "The Runaway Slave at Pilgrim's Point" is an impassioned first-person poem in which a slave murders her own child, who was conceived as a result of rape by her white master. "The Cry of the Children" protests the inhumane conditions for child laborers in British coal mines and factories. Not only did these poems provoke a powerful response from socially conscious readers, but they also anticipated the overtly political concerns of Browning's next book of poetry.
Browning's next book, Casa Guidi Windows (1851), revealed her...
(The entire section is 2,974 words.)