Biography
(Masterpieces of American Literature)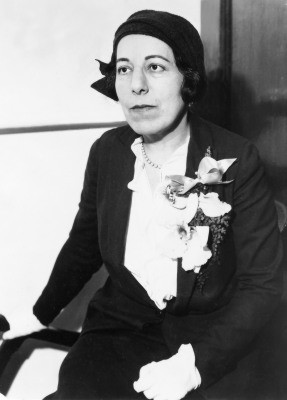 Edna Ferber was born in Kalamazoo, Michigan, to the Hungarian Jewish immigrant Jacob Charles Ferber and his American-born Jewish wife, Julia Neumann. Jacob Ferber was a storekeeper whose business failures caused the family to move frequently. As a result, Ferber spent her childhood in various towns and in Chicago. She lived in Ottumwa, Iowa, from 1890 to 1897 and then for several years in Appleton, Wisconsin. In Ottumwa, Ferber was exposed to anti-Semitism, which may have helped produce the strong opposition to bigotry seen in her fiction. Also in this period, her father began to go blind, and her mother took over his business and became the power in the family.
Ferber's early ambition was to become an actress, and she performed in plays in high school. She would have liked to attend the Northwestern University School of Elocution, but her family did not have the money to send her there. She pursued a career in journalism instead, first working for the Appleton Daily Crescent and then for the Milwaukee Journal. An illness forced her to leave Milwaukee, her job, and journalism, and she turned to writing fiction, selling the short story "The Homely Heroine" to Everybody's Magazine in 1910. She sold a number of stories to magazines over the following several years, including a popular series about an independent saleswoman named Emma McChesney. Three volumes of McChesney stories appeared in book form between 1913 and 1915.
Fearing that she was becoming repetitive and superficial in her McChesney stories, Ferber turned to novels, in 1917 producing Fanny Herself, her most autobiographical work, about a mother and a daughter in a Jewish family. She rarely wrote about Jewish characters in her later works (an exception is the storekeeper Sol Levy in the 1930 novel Cimarron), but her focus on outsiders and minorities can be seen as drawing on her Jewish background.
Ferber's first major success as a novelist came with So Big (1924), which won the 1925 Pulitzer Prize. She followed this with the even more successful Show Boat (1926), which was made into a Broadway musical by Jerome Kern and Oscar Hammerstein and then into a motion picture. During this period, Ferber moved to New York and became a regular at the Algonquin Hotel, where she was a member of the famous Round Table group of writers and theater people.
Ferber herself tried her hand at Broadway shows, usually in collaboration with other writers such as George S. Kaufman. That pair had success with such plays as The Royal Family (1927), Dinner at Eight (1932), and Stage Door (1936). She also continued to write short stories, but her main focus during the second half of her life was on novels, including such works as Cimarron and Saratoga Trunk (1941). Ferber's practice was to set each of her novels in a different region of the United States, sometimes with the result of offending residents of that region, who criticized her for caricaturing them. This was true to a certain extent with Cimarron, set in Oklahoma, and was even more true of Giant (1952), which was set in Texas. Her last novel, Ice Palace (1958), is sometimes criticized as being mere propaganda in favor of Alaskan statehood, but is also sometimes credited with helping bring Alaskan statehood about.
In her later years Ferber suffered from ill health, which limited her output. She died in New York City in 1968.
Biography
(Masterpieces of American Literature)
A best-selling author in her own time, Ferber never attracted much critical commentary, being seen as merely a popular writer. However, at her best, for instance in her portrayal of Selina DeJong in So Big and in her description of the family dynamic in Show Boat, she creates forceful characters and touches on important issues concerning the proper way to live one's life.
Biography
(Survey of Novels and Novellas)
Edna Jessica Ferber was the second daughter of a Hungarian Jewish immigrant storekeeper, Jacob Charles Ferber, and Julia Neuman Ferber, daughter of a prosperous, cultured German Jewish family. She was named Edna because the...
(The entire section is 1,057 words.)