Edgar Rice Burroughs Biography
Edgar Rice Burroughs created one of pop literature's most enduring characters—Tarzan. Burroughs studied at several military schools as a youngster, including Philips Academy in Andover, Massachusetts, and the Michigan Military Academy. But after failing to gain entrance into West Point, he enlisted in the army, only to be discharged early because of a heart problem. He then had a series of odd jobs for several years before deciding to write. After reading several popular stories in pulp magazines, he was determined to create something even more entertaining. Thus was Tarzan born. Though Burroughs did write many other stories, especially science fiction such as The Land That Time Forgot, he continued to capitalize on the Tarzan franchise, eventually turning the heroic man-ape into a cultural icon.
Facts and Trivia
Burroughs was working as a pencil-sharpener wholesaler when he first started writing his Tarzan novels.
In 1923, he set up his own company—Edgar Rice Burroughs, Inc.—and began printing his own books. By doing so, he was able to make a good deal of money, even throughout the Great Depression.
During the attacks on Pearl Harbor, Burroughs was living in Hawaii. He became the oldest war correspondent for the United States during World War II.
In 1919, Burroughs bought a ranch near Los Angeles and named it Tarzana. The name was popular with local residents, who voted to rename the town Tarzana in 1928.
Burroughs wrote roughly seventy novels before his death in 1950.
There is a crater on Mars named after him.
Biography
(20th-Century Biographies)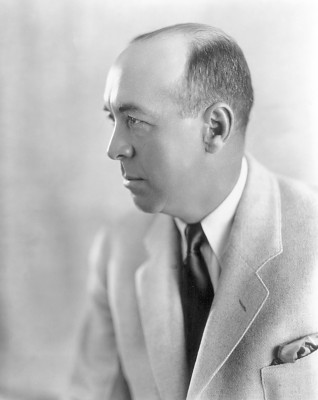 Early Life
Edgar Rice Burroughs was born in Chicago, Illinois, on September 1, 1875. His father, George Tyler Burroughs, had served four years in the Union Army during the Civil War, rising to the rank of brevet major. Following the war, the elder Burroughs moved to Chicago and became a prosperous businessman. He and his wife, Mary Evaline Zeiger Burroughs, were parents to four surviving sons, of whom Edgar was the youngest. Burroughs grew up in comfortable, middle-class surroundings. His family was close-knit and loving. His parents were ambitious for their offspring, and Burroughs's brothers all graduated from Yale or Harvard while he was a boy. He himself attended private schools until 1891, when an influenza epidemic in Chicago induced his parents to send him to Idaho, where two of his brothers had set themselves up as ranchers. Burroughs's brief experience in Idaho fired his imagination. The sixteen-year-old boy reveled in his contacts with cowboys, miners, and other colorful characters. He grew proud of his ability to live in a rough world and of his gift for working with horses. This Western idyll came to an abrupt end when Burroughs's father summoned him home. A new and frustrating epoch in his life would ensue.
George enrolled his son in the Phillips Academy in Andover, Massachusetts, a distinguished preparatory school that readied young men for the Ivy League universities. Though he proved popular with his peers, Burroughs failed to apply himself to his studies and flunked out after one semester. His father next sent him to the Michigan Military Academy, located at Orchard Park, Michigan, where he did better, despite once running away from the school. He graduated with an ambition to attend West Point but failed the entrance examination. Still hoping to win a commission in the Army, Burroughs enlisted in the famous Seventh Cavalry. However, life in the cavalry did not live up to his expectations. By 1896, when Burroughs reported to Fort Grant in the Arizona Territory, the Indian Wars were over. Burroughs and his comrades spent much of their time digging roads. Illness released Burroughs from the Army but also quashed his hopes of a military career. He returned to Idaho and started a stationary store, which failed within one year. Burroughs soon found himself home in Chicago working for his father. A...
(The entire section is 2,422 words.)