Other Literary Forms
(Literary Essentials: Short Fiction Masterpieces)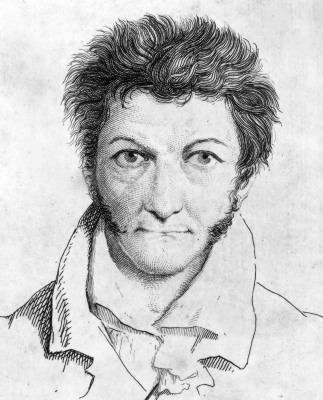 A genius with versatile talents in graphics, music, and theater, E. T. A. Hoffmann first achieved artistic distinction as a musician. He composed symphonies, operettas, sonatas, and the first romantic opera Undine (1816), based on a Nouvelle by Friedrich Heinrich Karl de la Motte Fouqué, and he wrote perceptive, progressive music criticism on Ludwig van Beethoven's Fifth Symphony, Wolfgang Amadeus Mozart's Don Juan and The Magic Flute, and other musical topics. He also wrote two major novels: Die Elixiere des Teufels: Nachgelassene Papiere des Bruders Medardus, eines Kapuziners (1815-1816; The Devil's Elixirs: From the Posthumous Papers of Brother Medardus, a Capuchin Friar, 1824), a Jekyll-Hyde psychological novel exploring the darker side of human nature, and Lebensansichten des Katers Murr, nebst fragmentarischer Biographie des Kapellmeisters Johannes Kreisler in zufälligen Makulaturblättern (1819-1821; The Life and Opinions of Kater Murr, with the Fragmentary Biography of Kapellmeister Johannes Kreisler on Random Sheets of Scrap Paper, 1969), a structurally innovative novel which contains interspersed pages from the life of a fictitious musician, used as blotting paper and underlay by the main narrator, the cat.
Achievements
(Literary Essentials: Short Fiction Masterpieces)
E. T. A. Hoffmann is a major figure of the romantic period and among the best-known writers of the German Romantic movement outside Germany. Although it would be difficult to trace completely his worldwide influence, his work certainly inspired writers such as Washington Irving, Nathaniel Hawthorne, and Edgar Allan Poe in the United States, Alexandre Dumas, père, Honoré de Balzac, and Victor Hugo in France, and Alexander Pushkin, Nikolai Gogol, and Fyodor Dostoevski in Russia. His tales have also inspired many composers, perhaps most notably Jacques Offenbach (The Tales of Hoffmann) and Peter Ilych Tchaikovsky (The Nutcracker and The Queen of Spades). His short fiction introduced many modern themes, including parapsychology and abnormal psychology, alienation of humans from life and society, the subconscious, the use of robots and automatons, and the fantastic and the grotesque. Hoffmann has also been credited with writing the first detective story in 1820, "Das Fräulein von Scudéri" ("Mademoiselle de Scudéry").
Other literary forms
(Survey of Novels and Novellas)
For most of his life, E. T. A. Hoffmann (HAWF-mahn) cherished the hope that he would one day be remembered as a composer, and it was only late in his career as an artist that literary preoccupations began to outweigh his interest in music. By the time of his death, Hoffmann had nevertheless produced a considerable literary oeuvre that included two novels and more than seventy tales. Hoffmann gathered most of the tales into three collections. He published the first under the title Fantasiestücke in Callots Manier (1814-1815; Fantasy Pieces in Callot's Manner, 1996). Included in this collection are Hoffmann's important first story, "Ritter Gluck: Eine Erinnerung aus dem Jahr 1809" ("Ritter Gluck"), as well as his most famous fairy tale, "Der goldene Topf: Ein Märchen aus der neuen Zeit" ("The Golden Flower Pot"). Hoffmann's second collection, Nachtstücke (1817; night pieces), contains his most ghostly, even ghoulish, creations. Its opening story,"Der Sandmann" ("The Sandman"), still servedSigmund Freud in 1919 as a case study of the human sense of the uncanny. Into the four volumes of Die Serapionsbrüder (1819-1821; The Serapion Brethren, 1886-1892) Hoffmann incorporated "Rat Krespel" ("Councillor Krespel"), "Die Bergwerke zu Falun" ("The Mines of Falun"), and—immortalized by Peter Ilich Tchaikovsky in 1892 as The Nutcracker Suite—the fairy tale "Nussknacker und Mausekönig" ("Nutcracker and the King of Mice"). The first detective story in European literature and Hoffmann's most popular tale during his lifetime, "Das Fräulein von Scudéri" ("Mademoiselle de Scudéri"), also appeared in The Serapion...
(The entire section is 2,091 words.)