E. M. Forster Biography
E. M. Forster had class—though perhaps he would have liked a little less of it. One major theme throughout his body of work, which includes the novels Howards End and Maurice, is an examination of the English class system and its impact on his characters' personal lives—usually not for the better. Also of particular interest to Forster was the explosive intersection of class and race, which his most acclaimed novel, A Passage to India, examines in the context of England's decline as a colonial power. A secular humanist throughout his life, Forster was gravely concerned about social, political, and spiritual divisions in the world. In his essay "What I Believe," he mentions the foundations of how we can all get along a little better: "tolerance, good temper, and sympathy."
Facts and Trivia
Despite living to the ripe old age of 91, Forster published his last (and some would argue greatest) novel, A Passage to India, when he was just 45.
While studying at Cambridge, Forster became a member of the Apostles, a secret intellectual society that has been around for nearly two hundred years.
Although he didn't live to see it, Forster played a key role in the reputation of the filmmaking team of Ismael Merchant and James Ivory. Two of their best-known and highest-regarded films are adaptations of Forster's work: A Room With a View (1986) and Howards End (1992).
Forster was a gay man who remained closeted throughout his long life. A novel detailing a gay love affair in the midst of the strict English class system, Maurice, was published a year after his death.
Following the publication of A Passage to India, Forster shifted his focus and embarked on a very successful career as a broadcaster for the BBC.
Biography
(History of the World: The 20th Century)
E. M. Forster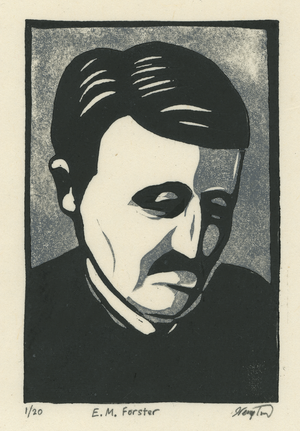 Article abstract: A liberal and a humanist, Forster was more centrist than extreme, and as such, he was an almost perfect embodiment of an early twentieth century realist who accepted the primacy of facts but insisted on balancing them with intuition or spirit.
Early Life
Edward Morgan Forster was born in London on January 1, 1879, to an upper-middle-class British family. His father, Edward Morgan Llewellyn Forster, an architect, died a year after the birth of his son, and Morgan, as the child was called, was brought up by a devoted mother, Lily (born Whichelo), whose own family had a history of artistic pursuits. Forster was an only child, and his relationship with his mother was very intense; he maintained a home with her until her death in 1945, when he was sixty-six. His mother was not his only female relation during his childhood. Rather, he had the loving attention, also, of his father's sister, Laura, his grandmother Whichelo, and, perhaps more important, his great-aunt on his father's side, Marianne Thornton, about whom he later wrote a biography (Marianne Thornton: A Domestic Biography, 1955) and from whom he inherited eight thousand pounds, money that later enabled him to attend Cambridge and to begin his writing career. Reared in such loving and protected surroundings, he was spoiled, self-centered, and also precocious, reading without specific instruction at the age of four and assimilating factual knowledge with astonishing speed.
Given such a background, it is not surprising that Forster had trouble when he entered a preparatory boarding school at Eastbourne. Indeed, his unhappiness caused his mother to move to Tonbridge so that her son could attend day school there and live at home. There, life was better but not without considerable strain, for Forster was not the epitome of what the all-male school was trying to produce—boys with well-developed bodies who would fit into a mold defined by a middle-class patriarchy. Forster was a small and thin child, delicately built, interested in the realm of the imagination rather than in physical activities, and tending more toward an interest in artistic creation than in making money. Though he would grow taller, he...
(The entire section is 5,050 words.)