Biography
(Critical Edition of Dramatic Literature)
Dylan Thomas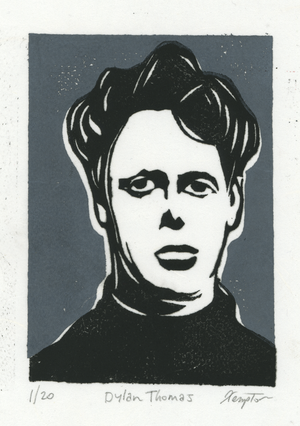 Dylan Thomas was born in Swansea, Wales, in 1914. He had a sister, Nancy, older than he by some eight years. Thomas spoke no Welsh, although both of his parents had spoken Welsh in their childhood homes. Thomas's father had written poetry in his youth; he was a schoolmaster, an atheist, and had deliberately rejected the Welsh language. Thomas attended the Swansea grammar school. When he was seventeen, he became an apprentice reporter and proofreader for the South Wales Daily Post, and he did not attend a university. He began to publish his first poems in newspapers in the early 1930's. He was also an amateur actor with the Swansea Little Theatre. (A friend and fellow actor, Malcolm Graham, has written, "The more fantastic the part, the better Dylan was.") It was during these years that Thomas's voice became strong and acquired the resonance that was to make him as famous as his poetry.
In 1934, Thomas moved to London, and in that year, his first collection, Eighteen Poems, was published. In 1937, Thomas married Caitlin Macnamara, and their first child, Lewelyn, was born in 1939. After the outbreak of World War II, Thomas tried to enlist for military service but was rejected. His second child, Aeron, was born in 1943. The family spent the years from 1940 to 1945 living in or near London, Thomas working on scenarios for documentary films. His first radio broadcast for the British Broadcasting Corporation had been made in 1937, but after 1945, he made more frequent broadcasts for the corporation on a freelance basis. In 1948, he began the production of feature-length films. During the postwar years, he traveled to Italy and to Prague, Czechoslovakia, and in 1951 he went to Persia with a commission to write a film for the Anglo-Iranian Oil Company. His third child, Colm, was born in 1949.
In 1950, Thomas made his first trip to the United States at the invitation of John Malcolm Brinnin. He read at the Poetry Center at the Young Men's and Women's Hebrew Association in New York, and for three months he visited American colleges, reading his own work as well as that of other nineteenth and twentieth century poets. In 1952, he made his second trip to the United States, and he returned in 1953 for his third visit. In May, 1953, Under Milk Wood was given its first performances in Cambridge, Massachusetts, and in New York. In October, 1953, Thomas returned to the United States for a fourth time; on November 9, he died in New York City at the age of thirty-nine. He was buried in St. Martin's Churchyard in Laugharne, Wales.
Biography
(Literary Essentials: Short Fiction Masterpieces)
Dylan Marlais Thomas's father, John David Thomas, was an embittered schoolmaster, emotionally remote from his son, but he possessed a fine library of contemporary fiction and poetry in which his son was free to read. His father's distance and unhappiness may have made Thomas more susceptible to the indulgences of his mother, Florence Williams Thomas. It is her family who appears in Thomas's work as the chapel-going farmers, and it is her oldest sister whose husband owned the farm near Llangain where the young Thomas often spent summer vacations. Thomas also had a sister, Nancy, nine years older than he. The family home at 5 Cwmdonkin Drive, Swansea, was across the street from the park which sometimes appears in his poems ("The Hunchback in the Park," for example). Likewise the beautiful Gower peninsula and his aunt's farm appeared in his adult work as subjects for his poetry and memoirs (most notably in "Fern Hill"). Thomas's early life in Wales furnished him with material that surfaced in his work for the rest of his life.
Thomas was a lackadaisical student at Swansea Grammar School. Talented in English, he edited the school magazine while he was there, and he began to keep the notebooks that reveal his early attempts to form his style, but he gave little attention to subjects that did not interest him. It was at school that he began his friendship with Dan...
(The entire section is 1,723 words.)