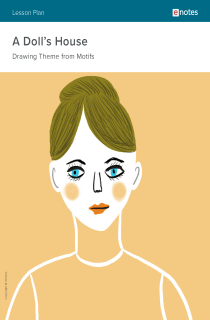 A Doll's House Literary Devices Lesson Plan
by eNotes
Release Date: July 22, 2019
Subjects: Language Arts and Literature
Age Levels: Grade 10, Grade 11, Grade 12, and Grade 9
Pages: 22
Purchase a Subscription
Excerpt
Drawing Themes from Motifs:
This lesson plan focuses on identifying themes in A Doll's House by interpreting literary motifs in the drama. Students will identify and analyze examples of major motifs in the text, explain the ideas they communicate, and determine how the ideas inform themes in play. By studying Ibsen's use of motif, students will be better able to identify and describe major themes in the drama.
Learning Objectives:
By the end of this lesson, students will be able to
define and describe motif as a literary device; 
identify major motifs in the play and locate examples of them in the text; 
interpret and describe ideas communicated through the motifs; 
from the motifs, draw themes developed in the play.
Skills: close reading; drawing inferences and themes from the text; supporting interpretations with details from the text
Common Core Standards: RL.9-10.1, RL.9-10.2, RL.9-10.3, RL.9-10.6, SL.9-10.1
Introductory Lecture:
A work of realism written and performed for the first time in 1879, A Doll's House continues to engage theater audiences and drama critics alike and remains the most frequently produced play by Henrik Ibsen (1828-1906). A reflection of Ibsen's 19th-century Norwegian society, the play was controversial at the time and still evokes conflicting views of the playwright's protagonist, Nora Helmer, who chooses to leave her husband and children at the drama's conclusion. Whether Nora's deciding to leave her marriage is courageous or selfish is left to the audience to interpret, but in the context of her life, the play suggests, Nora's decision is a matter of self-awareness and personal responsibility.
Through Nora's relationship with her husband, Torvald, Ibsen challenges the thinking of his day regarding the position of women in Norwegian society. As Nora fulfills her various gender roles in society—daughter, wife, and mother—her life is marginalized by social conventions and by laws that deny her autonomy because she is a woman. Torn between obeying the law or saving her husband's life, Nora secretly forges her deceased father's signature to secure a bank loan; the crime and her desperate, unsuccessful efforts to keep it a secret drive the plot and ultimately lead to Nora's recognizing and acting in response to painful truths about herself and about Torvald and their marriage.

The central theme in Ibsen's play is reflected in the title. Nora eventually realizes that she has been nothing more than a pretty doll for the self-centered, domineering Torvald to manage and indulge as he chooses and that she has played the role of Torvald's doll-wife in the mistaken belief that he loves her. Disabused of the notion when her forgery is revealed and Torvald betrays her, Nora recognizes that their marriage is a sham and that she must create an independent, authentic life for herself. Various literary motifs throughout the play contribute in developing the primary theme, as well as other themes relating to love, honor, and personal sacrifice.
About
Our eNotes Lesson Plans have been developed to meet the demanding needs of today's educational environment. Each lesson incorporates collaborative activities with textual analysis, targeting on discrete learning objectives. We've aligned all of these lessons to particular Common Core standards, and we list the specific standard met by each lesson. The main components of each plan include the following:
An introduction to the text
A step-by-step guide to lesson procedure
Previous and following lesson synopses for preparation and extension ideas
A collection of handouts and worksheets complete with answer keys
Each of these lesson plans focuses on promoting meaningful interaction, analytical skills, and student-centered activities, drawing from the Common Core Standards for English Language Arts and the expertise of classroom teachers. Each lesson includes an instructional guide on how to present the material, engage students in an activity, and conclude the class.