Anne Frank
(History of the World: The 20th Century)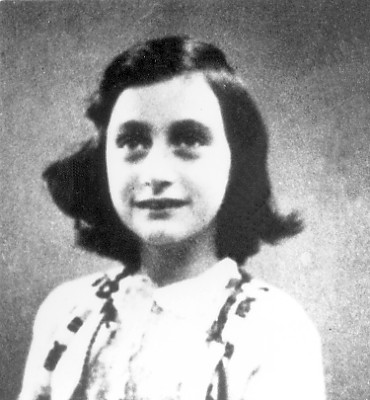 Article abstract: Frank's personal diary, which documents her family's life as persecuted Jews in Nazi-occupied Amsterdam, Holland, provides intimate details and a perceptive awareness of conditions leading to the Holocaust.
Early Life
Annelies Marie Frank was the second daughter born to Otto and Edith Frank. Otto's family had lived in Frankfurt, Germany, as part of a prosperous Jewish business and banking community for over three hundred years, and he had served as a German soldier in World War I. Anne, her parents, and her older sister, Margot, lived in Frankfurt am Main until 1933, when Adolph Hitler became chancellor of Germany. After boycotts of Jewish businesses were imposed, Otto decided his family should leave Nazi Germany. In the spring of 1933, he began working in Holland, where the rest of the family later joined him.
When Anne reached school age, she attended a Montessori school in her neighborhood. She learned to speak Dutch fluently and quickly found new friends among her classmates. For several years, her childhood remained quite untouched by the growing unrest in Europe. Overt persecution and razzias, or roundups, of Dutch Jews did not begin until after the Germans invaded Holland in 1940. By February, 1941, Jews were required to wear a yellow Star of David sewn on their clothes and obey the increasingly harsh restrictions imposed by the Nazi regime or risk deportation to a concentration camp.
Despite these conditions, Anne's interests resembled those of other girls her age—reading fan magazines about her favorite film stars, playing board games, swimming, and riding her bicycle. She rented films to show at home when Jewish children were no longer permitted to go to the movie theaters. Her childhood friends who survived the Holocaust have described her as a talkative, teasing, and intelligent girl full of curiosity.
As Anne was growing up in the Jewish Quarter, outbreaks of Nazi brutality erupted more frequently; in February, 1941, Dutch citizens responded with a general strike that lasted three days. Nazi reprisals for acts of resistance became so vicious that Otto began planning to hide his family in the upstairs of his company's office building on the Prinsengracht Canal. With the help of sympathetic employees, he started storing furniture and supplies in what became the "secret annex." On July 5, 1942, when Margot received a summons to report for deportation, the family packed a few belongings and silently left their home the next morning for a life in hiding.
The Franks were soon joined by Mr. and Mrs. Van Pels (the Van Daans in Anne's diary) and their son Peter, and Mr. Dussel, a local dentist. Together, they spent over two years confined to four rooms and an attic, living in constant fear of discovery. To preserve a sense of normalcy, Anne, Margot, and Peter continued to do homework. Anne also kept a diary of her experiences. Since no one in the annex could go outside, four...
(The entire section is 2,037 words.)