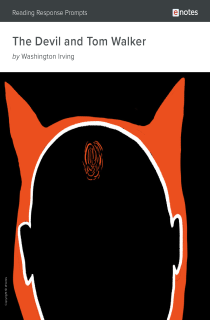 The Devil and Tom Walker eNotes Reading Response Prompts
*This download is only available with the eNotes Teacher's Subscription
Purchase a Subscription






8 pages
Language Arts,
Literature
For:
Grade 7
Grade 8
Grade 9
Grade 10
Excerpt From This Document
In the opening paragraph, the author blends fact with fiction. Which details in the paragraph are factual? Which details are attributed to "old stories"?
The story has some qualities of a folk tale, including stock characters— characters that are presented as stereotypes rather than developed as individuals. Explain how Tom's wife fits the stereotype of the tormenting, shrewish wife.
In works of literature, the devil appears in different forms and disguises to suit the culture or setting in a particular story. What form does he take in this story? What is there in his appearance that is universal or traditional?
The devil is very eager to make a deal with Tom—to give Tom great wealth in exchange for his soul. However, when Tom's wife tries to make her own deal with the devil, he won't come to terms. Why not? What does the devil's refusal to barter with her most likely imply?
Describe the final agreement between Tom and the devil. What is the one thing Tom refuses to do? Why do you suppose the author includes this detail in the story?

How does Tom spend his new wealth? Do you think being very rich changes Tom, or is he the same man he has always been? Explain your thinking with evidence from the story.
About this Document
These eNotes Reading Response Prompts are designed to encourage your students to read more effectively and with more pleasure by giving them interesting subjects to write about after they have read. Many of the prompts will take them directly into the text, while others will give them an opportunity to express their thoughts and feelings and to reflect on their own experiences.
A second purpose of the eNotes Reading Response Prompts is to facilitate instruction in ways that work for you in the classroom. The organization of the prompts makes them easy to use, and the content and construction of the prompts are designed to develop students' knowledge and academic skills.