Other Literary Forms
(Literary Essentials: Short Fiction Masterpieces)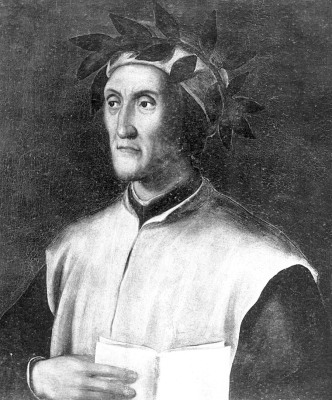 Other than his The Divine Comedy, Dante left a volume of works in poetic and prose forms. Around 1292, his La vita nuova (c. 1292; Vita Nuova, 1861; better known as The New Life, 1867), a collection of love lyrics linked by prose commentaries that tell the history of Dante's love for Beatrice, was published. Il convivio (c. 1307; The Banquet, 1903) was intended to be a commentary on fourteen of Dante's canzoni; the philosophical work was left unfinished. A theoretical work on the common language, De vulgari eloquentia (c. 1306; English translation, 1890) is a treatise on philology. De monarchia (c. 1313; English translation, 1890) is a treatise on monarchy and its relation to the church. Thirteen surviving letters written in Latin and poetic essays exchanged with Giovanni del Virgilio are contained in Epistolae (c. 1300-1321; English translation, 1902) and Eclogae (1319; Eclogues, 1902). A Latin dissertation on natural philosophy, Quaestio de aqua et terra (1320; English translation, 1902) is the text of a lecture Dante gave in Verona at the invitation of Cangrande della Scala.
Achievements
(Literary Essentials: Short Fiction Masterpieces)
Dante is the most famous Italian author and perhaps the most widely read of all medieval writers. His works are the foundation for all Italian literature, and his stature was instrumental in establishing the Florentine dialect as the basis for the modern Italian language. The Divine Comedy has been translated into virtually all languages, and it has been the source of inspiration for famous and diverse authors such as William Shakespeare, Miguel de Cervantes, T. S. Eliot, Albert Camus, and William Faulkner. This monumental work is recognized as a compendium of all medieval learning; it is an erudite and masterful presentation of the philosophical, theological, astronomical, lyrical, and cultural ideas of the times, while on a narrative level it weaves together myriad fascinating tales. Throughout Italy and the entire civilized world there are schools, cultural organizations, benevolent societies, literary journals, medals of achievement, and even city streets and other landmarks named in his honor. Dante's The Divine Comedy is a classic and a magnificent tribute to the human spirit.
Other Literary Forms
(Literary Essentials: Great Poems of the World)
Dante's prose works are not usually taken as major literary achievements in themselves, although they provide many useful sidelights and clarifications to a reader of The Divine Comedy. Dante titled the work Commedia. It was Giovanni Boccaccio, forty years after Dante's death, who called the work La divina commedia, the name by which it is commonly known. Il convivio (c. 1307; The Banquet, 1887) was probably written between 1304 and 1307. An unfinished work of some seventy thousand words in Italian prose, it is a commentary on three canzones or odes in which the poet proposes a theory of allegory for moral readings of his poetic compositions, so that it will be clear that virtue, not passion, is the topic. A digressive apologia, The Banquet is a mine of information about medieval literary culture. De vulgari eloquentia (c. 1306; English translation, 1890), a Latin prose work of nearly twelve thousand words, was probably composed in the period from 1304 to 1306. It is believed to be the first study ever written about vernacular language and poetic style and contains fascinating conjectures about the origin of language, Romance linguistics, verse forms, metrics, and poetic sounds. De monarchia (c. 1313; On World Government, 1957) is a Latin prose work of nearly eighteen thousand words, probably written in 1312 and 1313; it is a series of arguments for world rule unified under the Holy Roman Empire. Dante's explanations of his ideas about the separate but complementary functions of church and state are particularly valuable. Only a few of Dante's letters survive, but several of them contain seminal passages of Dantean thought.
Many of Dante's lyrics are probably lost forever, but if the eighty or so miscellaneous ones attributed to him are a fair...
(The entire section is 2,444 words.)