Daniel Defoe Biography
Daniel Defoe was a survivor—and that's an understatement. He was young and vulnerable when an outbreak of the bubonic plague attacked England, killing hundreds of thousands of people all around him, but he survived. Then in 1666, when Defoe was not yet a teen, the Great Fire of London burned down a large portion of the city, including his entire neighborhood, leaving only his family's and one neighbor's houses standing. It's no wonder, then, that his most famous book, Robinson Crusoe, is filled with adventure. Defoe's novel is a fictional autobiography of Crusoe, who survived twenty-eight years on an island before he was rescued. The novel has remained so popular there is now a real island that bears the hero's name.
Facts and Trivia
Daniel Defoe is sometimes credited with being the "father" of the English novel. Though that title is endlessly debated by scholars, Defoe undoubtedly popularized the form with Robinson Crusoe.
Defoe must have written every day of his life in order to publish almost four hundred works (books, pamphlets, and journals) on topics that ranged from crime to spiritualism.
Defoe was criticized in his time for selling his writing talents to any politician who would pay him. In other words, no one trusted him because he would take any side of an issue for the right price. His critics said he lacked integrity.
Defoe was a merchant by trade but was bad with money—so bad that he ended up in debtors' prison. And in 1703, Defoe was also a political prisoner for criticizing the government. People in the streets drank and cheered as he read poetry from his cell.
Defoe often mocked people in power with his writing, so he often resorted to publishing under pseudonyms. The most outlandish pen name he ever used was "Heliostrapolis, secretary to the Emperor of the Moon."
Biography
(History of the World: The 17th and 18th Centuries)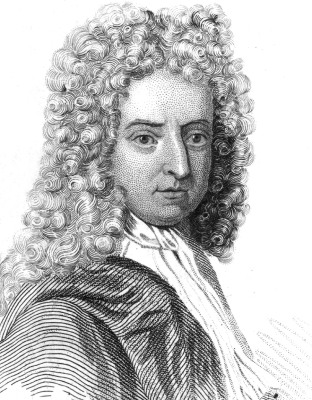 Article abstract: Because of his inventiveness, his eye for detail, and his stylistic adeptness, Defoe was a great journalist and the creator of fiction that set the standard for the English novel.
Early Life
Daniel Defoe was born in St. Giles Cripplegate, London, the son of James Foe, a tallow chandler who later acted as an auditor for the Butchers' Company (Daniel changed his name to Defoe in 1695). Little is known about Daniel's mother, Alice, except that she came from Dissenting stock and, like her husband, was a Presbyterian. She died when Daniel was eight.
Daniel's formal education began at the Reverend James Fisher's school at Dorking, Surrey. Since Dissenters were refused admission to the universities at Oxford and Cambridge, Defoe then went to the Reverend Charles Morton's small college at Newington Green—which, Defoe later commented, lacked the intellectual stimulus of the great universities.
Unlike his classmates, most of whom entered the ministry, when he left school in 1680 Daniel went into trade as a hose-factor, seeking out and distributing various sorts of goods. The business necessitated extensive travel in Europe. Since he was a keen observer, he thus gained knowledge of people and places that would be useful in his writing. In 1684, he married Mary Tuffley, the daughter of a prosperous wine-cooper, who provided her with a considerable dowry. Mary was to bear her husband eight children.
The young merchant then became increasingly active on the political scene. In 1683, he published his first journalistic effort, a political tract. Two years later, he joined the army of Charles II's illegitimate son, the Protestant duke of Monmouth, who was attempting to seize the throne from Catholic James II. When the rebellion failed, Daniel may have fled the country; in any case, two years later a Daniel Foe was pardoned for taking part in the uprising. In 1688, when William of Orange and his wife Mary, both staunch Protestants, became England's monarchs, Daniel Foe was a highly visible supporter of the new regime.
His political contacts...
(The entire section is 4,464 words.)