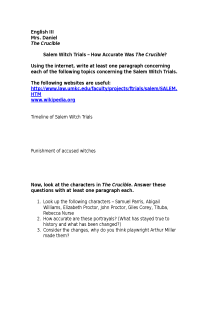 Salem Witch Trials Fact Check
by litchick2011
Release Date: February 12, 2019
Age Levels: Grade 11
Purchase a Subscription
Excerpt
Salem Witch Trials – How Accurate Was The Crucible?
Using the internet, write at least one paragraph concerning each of the following topics concerning the Salem Witch Trials.
The following websites are useful:
http://www.law.umkc.edu/faculty/projects/ftrials/salem/SALEM.HTM
www.wikipedia.org
Timeline of Salem Witch Trials
Punishment of accused witches
Now, look at the characters in The Crucible. Answer these questions with at least one paragraph each.
Look up the following characters – Samuel Parris, Abigail Williams, Elizabeth Proctor, John Proctor, Giles Corey, Tituba, Rebecca Nurse
How accurate are these portrayals? (What has stayed true to history and what has been changed?)
Consider the changes, why do you think playwright Arthur Miller made them?
About
I use this once we finish Miller's play so that the students can see how accurate Miller's work was.