Biography
(Masterpieces of American Literature)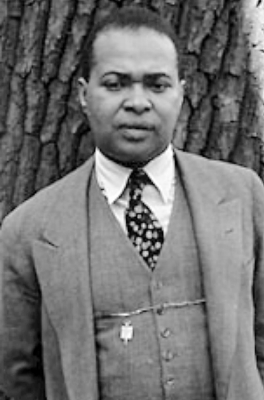 The early life of Countée Cullen is shrouded in mystery. His birthplace was probably Louisville, Kentucky, but New York City and Baltimore have also been suggested. He may have been raised by his paternal grandmother, but at age fifteen, he was adopted by the Reverend and Mrs. F. A Cullen, though the adoption may never have been made official. Reverend Cullen was minister of Salem Methodist Episcopalian Church, a large congregation in Harlem, New York.
Cullen attended DeWitt Clinton High School in New York City, a school famous for its excellence. In 1922, he entered New York University. In 1925, he was elected to Phi Beta Kappa, won first prize in the Witter Bynner Poetry Contest, published Color (an impressive volume of poems), and entered Harvard University. In 1926, he completed a Master of Arts degree at Harvard and accepted a position as assistant editor at Opportunity, a magazine for which he wrote a regular poetry column.
Some critics argue that Cullen's later works did not fulfill the promise of his early writings, but he published widely and regularly: Copper Sun (1927); The Ballad of the Brown Girl: An Old Ballad Retold (1927); Caroling Dusk (1927); The Black Christ, and Other Poems (1929); One Way to Heaven (1932); The Medea, and Some Poems (1935); The Lost Zoo (A Rhyme for the Young, but Not Too Young) (1940); My Lives and How I Lost Them (1942).
In 1934, he accepted a teaching position at Frederick Douglass Junior High School in New York City, where he taught primarily African American children, including James Baldwin, who himself became a well-known writer two decades later.
Like his early life, Cullen's personal life was mysterious. In 1928, he married Yolande Du Bois, the daughter of distinguished intellectual W. E. B. Du Bois, but soon after the marriage he traveled to France without his wife. The couple divorced in 1930. Some scholars suggest that Cullen may have had a homosexual relationship with fellow writer Harold Jackman, but no substantiation of this observation exists. In 1940, Cullen married Ida Mae Roberson. In 1946, he died of uremic poisoning.
Biography
(Poets and Poetry in America)
Countée Cullen was born Countée LeRoy Porter, although scholars remain uncertain as to the place of his birth. He was raised by Elizabeth Porter, who is thought to be his grandmother and who brought him to Harlem. When Porter died in 1918, Cullen was adopted by the Reverend and Mrs. Frederick A. Cullen; the Reverend Cullen was minister of the Salem Methodist Episcopal Church of Harlem. The years spent with the Cullens in the Methodist parsonage made a lasting impression on the young poet; although he experienced periods of intense self-questioning, Cullen appears never to have discarded his belief in Christianity.
During his undergraduate years at New York University, the young poet became heavily involved with figures of the Harlem Renaissance; among these Harlem literati were Zora Neale Hurston, Langston Hughes, Carl Van Vechten (a white writer who treated black themes), and Wallace Thurman. After the appearance of Color in 1925 and the receipt of his Harvard M.A. in June, 1926, Cullen assumed the position of literary editor of Opportunity. At the end of October, 1926, he wrote one of the most important of his "Dark Tower" essays about the appearance of that great treasure of the Harlem Renaissance, the short-lived but first black literary and art quarterly Fire (issued only once). He contributed one of his best poems, "From the Dark Tower," to Fire. About the solitary issue, Cullen wrote that it held great significance for black American culture, because it represented "a brave and beautiful attempt to meet our need for an all-literary and artistic medium of expression."
On April 10, 1928, Cullen married Nina Yolande Du Bois, daughter of one of the most powerful figures of twentieth century black American culture, W. E. B. Du Bois; the two were married at Salem Methodist Episcopal Church. This union proved to be of short...
(The entire section is 1,775 words.)