Biography
(Critical Edition of Dramatic Literature)
Colley Cibber was the son of Jane Colley and Caius Gabriel Cibber, a master sculptor from Flensburg, Schleswig. Cibber's father had intended his son for the Church, but Cibber became stagestruck at an early age and in 1689 joined the Theatre Royal as an unsalaried apprentice. Even though his early years were not marked by financial success, in 1693, Cibber married Katherine Shore, the daughter of Matthias Shore, who held the post of Sergeant Trumpet at court.
Discouraged by the poor roles he was assigned, Cibber wrote a play (Love's Last Shift) with a role for himself. Sir Novelty Fashion was not the main character in the play, but the part gave Cibber a chance to demonstrate his comic abilities. Shortly after the play's premiere in 1696, Sir John Vanbrugh wrote The Relapse: Or, Virtue in Danger as a sequel to Love's Last Shift. Cibber's performance as Lord Foppington (the new title for Sir Novelty) in Vanbrugh's play confirmed his success in Love's Last Shift and established him as one of the leading comedians of his day. As a playwright and an actor, Cibber did not limit himself to comedy, but it was in this genre that he enjoyed his greatest successes. In addition to writing and acting, Cibber became increasingly involved in the administration of Drury Lane, eventually becoming one of the triumvirate of actor-managers who ran the company.
The 1720's were marked for Colley Cibber by well-publicized quarrels with Alexander Pope, Henry Fielding, John Dennis, and Nathaniel Mist. Cibber's popularity also declined during this decade; there appeared to be a permanent claque in the audience that disapproved of everything Cibber did. As reader for Drury Lane, Cibber was the most influential of the three actor-managers. Many of his problems stemmed from his cavalier treatment of new works that were submitted to the company for possible performance.
In 1730, Cibber was named poet laureate. This new post proved a source of both pleasure and aggravation for Cibber. It gave him an entry into the highest levels of society but also made him the target of new volleys of ridicule, since he was not a skilled poet.
In 1733, Cibber retired from the stage, but he continued to make guest appearances until 1745, when his play Papal Tyranny in the Reign of King John was presented, with the author playing Cardinal Pandulph. Neither the play nor Cibber's performance was well received; it marked his last appearance on the stage.
In 1740, his autobiography appeared and became an immediate success, quickly going through several editions. In 1743, Pope immortalized Cibber as the King of the Dunces in The Dunciad (1728-1743), thus bringing to a head their long-standing feud. Despite the attacks by Pope and other men of letters, Cibber enjoyed his final years, for he had achieved the status of a celebrity and was accorded preferential treatment by the finest families of England.
Biography
(Great Authors of World Literature, Critical Edition)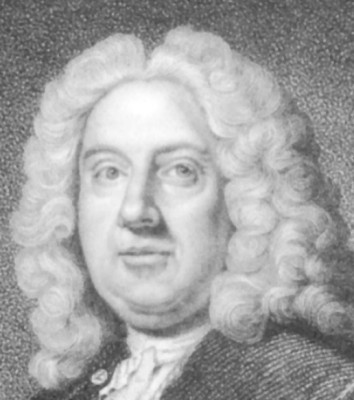 Colley Cibber (SIHB-ur) is in the unfortunate position of being remembered mainly as the chief target of ridicule in Alexander Pope's Dunciad—to be immortalized as the King of Dullness is a poor sort of fame. Although Cibber's name would not have been immortal but for Pope, he was far from being dull. He was, in fact, a remarkable actor, a playhouse manager, and a competent, though unoriginal, playwright who had the misfortune to make the best writers of England his enemies: Cibber suffered not only from the verbal assaults of Pope but also from the wit of Henry Fielding and Samuel Johnson. His Whig politics helped him in his career but also made him a ready butt for the Tory satirists.
Colley Cibber was the eldest son of Caius Gabriel Cibber, a popular Danish sculptor. Born in London on November 6, 1671, he left school at sixteen and in 1688 enlisted with his father in the Devonshire volunteers to support the cause of William of Orange. In 1690, he joined Thomas Betterton as an actor at the Drury Lane Theatre. Not able to find his niche within the company, Cibber wrote the successful Love's Last Shift to tailor-make the role of Sir Novelty Fashion, an ignorant but essentially good-hearted fop, for his specific talents. This play about a rakish husband who reforms when he finds out how much his wife loves him broke the Restoration tradition of libertine comedy and helped initiate the new taste for sentimental comedy that was to dominate the English stage for almost a century. John Vanbrugh satirized Cibber's sentimental ending by writing The Relapse (1696), a play that recounts the further affairs of the "reformed" husband. Cibber established his reputation as an actor by playing the role of the fop in both plays.
Although Cibber did not restrict himself to the formula established in Love's Last Shift, he resorted to it again in his masterpiece, The Careless Husband, praised even by Pope himself. However, much of his later work was imitative. He adapted Francis Beaumont and John Fletcher, John Dryden, Molière, William Shakespeare, and Pierre Corneille to suit the taste of his audience. The Non-Juror, for example, was a Whig version of Molière's Tartuffe (pr. 1664), with the hypocrite now a Roman Catholic priest who incites rebellion; for this political stroke George I awarded him two hundred guineas. Cibber's extremely popular version of Shakespeare's Richard III (pr. c. 1592-1593) kept the stage until 1821 and even left its mark on Laurence Olivier's 1955 film of the classic.
He became one of the managers of the Drury Lane Theatre in 1711 and for political reasons he was made poet laureate in 1730. Even Cibber knew that he was unsuited to be a poet by nature, and his official odes were commonly ridiculed. His famous Apology is a valuable and absorbing account of contemporary English stage history. In 1742, he attained permanent fame when Pope published The New Dunciad and in the fourth book made Cibber the "hero." Nevertheless, Colley Cibber outlived many of his enemies and detractors and, despite the financial setbacks and reversals that plagued much of his life, he died a wealthy man in London in 1757.