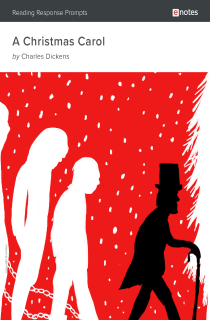 A Christmas Carol eNotes Reading Response Prompts
*This download is only available with the eNotes Teacher's Subscription
Purchase a Subscription






13 pages
Language Arts,
Literature
Excerpt From This Document
How does the narrator describe Scrooge? Explain how Scrooge's physical appearance reflects his personality and character.
How does the description of Scrooge's office and his clerk emphasize that Scrooge loves money and hates to part with it? What happens in the office that also emphasizes Scrooge's greed and stinginess?
What seems to be the Ghost's nature and attitude toward Scrooge? Do you think Scrooge should fear this supernatural being? Why or why not?
Describe the Christmas that Scrooge enjoyed one year with Mr. and Mrs. Fezziwig. How does witnessing the scene affect Scrooge? What does it make him realize? Why do you suppose he wishes he could "say a word or two" to the clerk who works for him?
When Scrooge begins to think that the second spirit might be in an adjoining room, the narrator makes a satirical observation about human nature, including himself and the reader in the comment. Paraphrase what he has to say. What does his observation suggest about people? Do you think there is truth in what he says? Why or why not?
About this Document
These eNotes Reading Response Prompts are designed to encourage your students to read more effectively and with more pleasure by giving them interesting subjects to write about after they have read. Many of the prompts will take them directly into the text, while others will give them an opportunity to express their thoughts and feelings and to reflect on their own experiences.
A second purpose of the eNotes Reading Response Prompts is to facilitate instruction in ways that work for you in the classroom. The organization of the prompts makes them easy to use, and the content and construction of the prompts are designed to develop students' knowledge and academic skills.