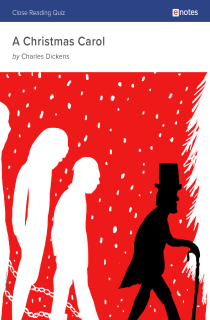 A Christmas Carol Close Reading Quiz
*This download is only available with the eNotes Teacher's Subscription
Purchase a Subscription





33 pages
Language Arts,
Literature
For:
Grade 7
Grade 8
Grade 9
Grade 10
Excerpt From This Document
Read these passages from Stave One of A Christmas Carol, and then answer the question that follows each passage. Refer to the passage in answering the question. Circle the correct answer to each question.
1) MARLEY WAS DEAD: to begin with. There is no doubt whatever about that. The register of his burial was signed by the clergyman, the clerk, the undertaker, and the chief mourner. Scrooge signed it: and Scrooge's name was good upon 'Change, for anything he chose to put his hand to. Old Marley was as dead as a door-nail.
Which type of figurative language is employed in this passage?
Oxymoron
Metaphor
Personification
Simile
2) But what did Scrooge care? It was the very thing he liked. To edge his way along the crowded paths of life, warning all human sympathy to keep its distance, was what the knowing ones call "nuts" to Scrooge.
Which statement about Scrooge is true as he is introduced in the story?
He avoids people because he must work all the time for his business to succeed.
He places no value on human companionship.
He avoids making friends because friends have betrayed him in the past.
He pretends to be unfriendly because he fears others will not like him.
About this Document
Our eNotes Close Reading Quizzes have been designed to provide students with more than a simple review of the text. Each multiple-choice question corresponds to a particular selection from the text, promoting opportunities for developing and testing close-reading, critical-thinking, and literary-analysis skills. Each quiz contains the following components:
A series of multiple choice questions with accompanying text
Several short answer questions for extended, written answers
A comprehensive answer key for both sections
In completing these quizzes, students will be able to demonstrate their ability to close read, think critically, and comprehend general and nuanced elements of the text.