Other Literary Forms
(Literary Essentials: Short Fiction Masterpieces)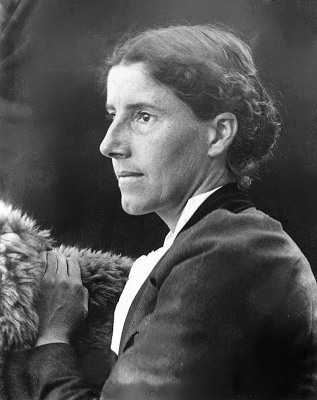 Charlotte Perkins Gilman published a volume of poems, In This Our World (1893). Her nonfiction social criticism, notably Women and Economics (1898), was the basis of her contemporary reputation and her lecture career. Gilman also wrote utopian novels, including her famous Herland (1915). Her final work was an autobiography, The Living of Charlotte Perkins Gilman (1935).
Achievements
(Literary Essentials: Short Fiction Masterpieces)
Charlotte Perkins Gilman was posthumously inducted into the National Women's Hall of Fame in Seneca Falls, New York, in 1994. During her life, she was a delegate to a number of international conventions, including the International Socialist and Labor Congress in London in 1896 and the International Women's Suffrage Congress in Budapest, Hungary, in 1913.
Bibliography
(Great Authors of World Literature, Critical Edition)
Davis, Cynthia J., and Denise D. Knight, eds. Charlotte Perkins Gilman and Her Contemporaries: Literary and Intellectual Contexts. Tuscaloosa: University of Alabama Press, 2004. A collection of essays by Gilman scholars that offers a wealth of biographical and critical information and places Gilman's opinions among those of her contemporaries.
Golden, Catherine. The Captive Imagination: A Casebook on "The Yellow Wallpaper." New York: The Feminist Press, 1992. Devoted entirely to "The Yellow Wallpaper." The "Backgrounds" section of the volume includes essays on nineteenth century attitudes and treatment of women's psychiatric complaints. The collection of criticism of Gilman's most-discussed story is extensive, including Elaine Hedges' 1973 feminist afterword to "The Yellow Wallpaper."
Hill, Mary A. Charlotte Perkins Gilman: The Making of a Radical Feminist, 1860-1896. Philadelphia: Temple University Press, 1980. Primarily a biographical exploration of the roots of Gilman's social theories, the insights of this work are based on a reading of Gilman's private journals and letters. Includes comments on the autobiographical short fiction, particularly "The Yellow Wallpaper."
Karpinski, Joanne B., ed. Critical Essays on Charlotte Perkins Gilman. Boston: G. K. Hall, 1991. This collection includes the Shelley Fishkin essay "Making a Change: Strategies of Subversion in Gilman's Journalism and Short Fiction."
Knight, Denise D., ed. Charlotte Perkins Gilman: A Study of the Short Fiction . New York: Twayne Publishers, 1997. A most useful volume of critical analysis of the short fiction. Part 1 discusses Gilman's short fiction, its influences, "The Yellow Wallpaper," and other stories. Part 2 provides...
(The entire section is 557 words.)