Biography
(History of the World: The 19th Century)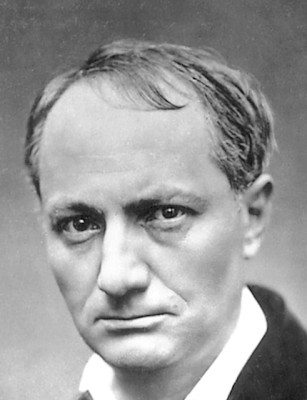 Article abstract: Baudelaire was instrumental in the transformation from a classical conception of poetry, which concentrated on the subject, to the Romantic focus on the self and presented in his own poetry a heightened sensitivity to the dark dimensions of the beautiful, which served as a consolation for his own awareness of the human inclination toward self-destruction.
Early Life
Charles Baudelaire was born in Paris in 1821. His father, a member of the senate during the reign of Napoleon I, died in 1827 at the age of sixty-eight, and his mother was married to a successful career officer twenty months later. In 1830, Baudelaire entered the Collège Royal, a boarding school in Lyons, where his stepfather was stationed, and remained there until his family returned to Paris in 1836. He loathed the routine and the excessively strict code of discipline at the Collège Louis-le-Grand and was expelled in 1839. To satisfy his stepfather, who hoped that he would follow a career in law, Baudelaire continued his studies at the Collège Saint-Louis and passed the examination for his baccalaureate later that year.
Between 1839 and 1841, Baudelaire lived as a sort of idle protodandy in the Latin Quarter while he tried to pursue a literary career. One of his closest friends, Ernest Praround, described him:
. . . coming down a staircase in the Baily house, slim, a low collar, an extremely long waistcoat, detached cuffs, carrying a light cane with a small gold head, walking with a supple, almost rhythmic step . . . Baudelaire had a somewhat yellow and even complexion, which had a little color on the cheekbones, a delicate beard which he didn't clip, and which did not smother his face.
His expression, sharpened sometimes by genuine malice, sometimes by irony, would relax when he stopped talking or listening to withdraw into himself.
Théodore de Banville remarked on his "long, dense, and silk-black hair," while others noted that he presented himself with a painterly regard for appearance, a reflection of his growing commitment to art as a means of enhancing every aspect of life. His stepfather believed that he could find "better sources of inspiration" than "the sewers of Paris," and, to separate him from his "abominable friends," convinced him to sail to India. The trip lasted eight months, giving Baudelaire a taste for the exotic.
In 1842, having returned to France, Baudelaire took possession of his inheritance, a small fortune equivalent to $100,000. He settled in the expensive Quai de Bethune area, the first of fourteen addresses he maintained in Paris during the next fourteen years, and with the resources to cultivate his public presentation of himself, he moved with a crowd that valued the shocking remark and the outrageous gesture. His experiments with hashish began at about this time, as did his liaison with Jeanne Duval, a beautiful actress of mixed racial descent—the "Black Venus" of Les Fleurs du Mal (1857, 1861, 1868; Flowers of Evil, 1909). His stepfather was so alarmed by Baudelaire's style of living that he appointed a guardian to handle his monetary affairs, an act which irritated Baudelaire for the remainder of his life and may have contributed to a halfhearted attempt at suicide in 1845.
Baudelaire's spirits were revived by his first real success as a writer, his review of the 1845 exhibition at the Louvre, which blended the emotional responsiveness of the poet with the critical acuity of the trained art critic. His "Salon de 1846" ("Salon of 1846," 1964) was similarly successful, and on its last pages there was an announcement for a book of poems to be titled "Les Lesbiennes"—a title designed for its effect. This was the first public reference to Flowers of Evil, which in fact would not be published for another decade. In 1847, Baudelaire published La Fanfarlo, an extended short story with a protagonist who served as a...
(The entire section is 2,470 words.)