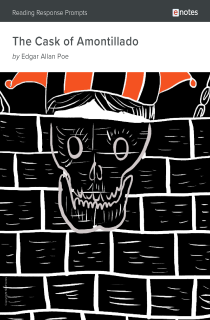 The Cask of Amontillado eNotes Reading Response Prompts
*This download is only available with the eNotes Teacher's Subscription
Purchase a Subscription






8 pages
Language Arts,
Literature
Excerpt From This Document
The first sentence of "The Cask of Amontillado" makes it clear that this is a story of revenge. What has Fortunato done that compels the narrator to punish him? According to the narrator, what two conditions must be met to exact revenge?
Describe how Montresor, the narrator, lures Fortunato to his death. What details in the story suggest that Montresor took his time and planned his revenge very carefully? What does Montresor's scheme reveal about him?
How is Montresor's revenge accomplished through deception? Describe the various ways he deceives Fortunato.
About this Document
These eNotes Reading Response Prompts are designed to encourage your students to read more effectively and with more pleasure by giving them interesting subjects to write about after they have read. Many of the prompts will take them directly into the text, while others will give them an opportunity to express their thoughts and feelings and to reflect on their own experiences.
A second purpose of the eNotes Reading Response Prompts is to facilitate instruction in ways that work for you in the classroom. The organization of the prompts makes them easy to use, and the content and construction of the prompts are designed to develop students' knowledge and academic skills.