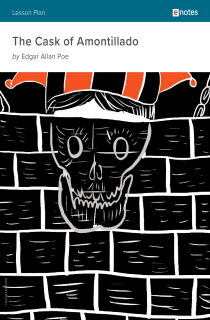 The Cask of Amontillado eNotes Lesson Plan
*This download is only available with the eNotes Teacher's Subscription
Purchase a Subscription






Excerpt From This Document
Objectives
After studying "The Cask of Amontillado," students will be able to
Summarize the plot and interpret the story's conclusion.

Describe the main characters, identifying their major traits.

Describe the setting and atmosphere and discuss how they contribute to the horror in the narrative.

Define point of view and explain why the story's first-person point of view is effective.

Identify and discuss revenge as a major theme in the story.

Define three types of irony and explain how they are developed in the narrative.

Literary Terms
Plot

Setting

Atmosphere

Point of view; first-person point of view

Theme

Irony (Situational irony; verbal irony; dramatic irony)
About this Document
Our eNotes Comprehensive Lesson Plans have been written, tested, and approved by active classroom teachers. Each study guide takes students through the text section by section, glossing important vocabulary and encouraging active reading. Each is designed to bring students to a greater understanding of the language, plot, characters, and themes of the text. The main components of each plan are the following:
An in-depth introductory lecture
Discussion questions
Vocabulary lists
Section-by-section comprehension questions
A multiple-choice test
Essay questions
Each plan is divided into a teacher and a student edition. The teacher edition provides complete answer keys for all sections, including example answers for the essay questions.