Biography
(Masterpieces of American Literature)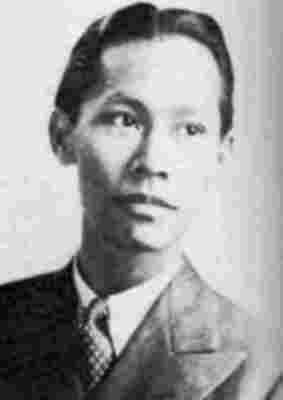 Carlos Bulosan emigrated to the United States from his native Philippines in 1930. Like countless other young men who had been driven to the United States by the promise of better jobs, Bulosan found instead the crushing defeats of the worst economic depression in U.S. history. The story of his struggles during the 1930's and early 1940's, chronicled in the autobiographical America Is in the Heart (1946), had a profound impact on ethnic writing after it was republished by the University of Washington Press in 1973.
It is difficult to piece together Bulosan's real life story, in part because his most important literary legacy is itself a creative mix of fact and fiction. Even the basic outline of his life is in some dispute: Scholars disagree about the date of his birth, the date and location of his death, and his age when he died. What is known is that he was born in the village of Mangusmana, near Binalonan (in Pangasinan province, on the island of Luzon) in the Philippines and was one of several children. Like many rural Filipino families at that time, his parents suffered economic hardship due in part to U.S. colonialism. He completed only three years of schooling and, drawn to the United States by the promises of wealth and education and the dream of becoming a writer, he followed two older brothers and purchased a steerage ticket to Seattle for seventy-five dollars, arriving on July 22, 1930, while still a teenager. He would never return to the Philippines, and he would never become an American citizen. He worked at a series of low-paying jobs in an Alaskan fish cannery and as a fruit and vegetable picker in Washington and California. Conditions in the early 1930's were miserable for all migrant workers (as documented in John Steinbeck's 1939 novel The Grapes of Wrath) but particularly for Filipinos (then called "Pinoys") such as Bulosan, and he experienced racial discrimination and poverty. However, he slowly improved his English, befriended other immigrant laborers suffering similar conditions, and soon was writing for and editing union and immigrant papers such as New Tide. He also became involved in organizing workers and, with his Filipino friend Chris Mensalves, formed the union that would later become the United Cannery, Agricultural, Packing and Allied Workers of America (UCAPAWA).
Never a healthy man, Bulosan was diagnosed with tuberculosis in 1936, and he spent the next several years in Los Angeles General Hospital, undergoing surgeries and convalescence. He used his time productively, however; he later claimed that he read a book a day, many by the classic authors of American literature, including Edgar Allan Poe, Walt Whitman, Theodore Dreiser, and Ernest Hemingway. He never abandoned his early dream of becoming a writer and soon was publishing poetry and essays. By the early 1940's, he was gaining national recognition.
In 1942, he published his first book of poems, Letter from America, and The Voice of Bataan was published the following year. Also in 1943, the Saturday Evening Post commissioned articles on the Four Freedoms, and Bulosan was paid one thousand dollars for "Freedom from Want," an essay that was illustrated in the magazine by the famous artist Norman Rockwell. Stories, poems, and essays by Bulosan began to appear during the early 1940's in magazines such as Town and Country, Harper's Bazaar, and Poetry. Bulosan's first collection of stories, The Laughter of My Father, was published in 1944 and was broadcast around the world to American troops fighting in World War II; it soon became a best seller.
In 1946, Harcourt Brace published America Is in the Heart, which also became popular, but Bulosan's career was already beginning to falter, in part because of two factors beyond his control. In 1944, he had published a short story, "The End of the War," in The New Yorker , and he was accused of plagiarism by another writer. The charges were never...
(The entire section is 1,434 words.)