Biography
(History of the World: The 19th Century)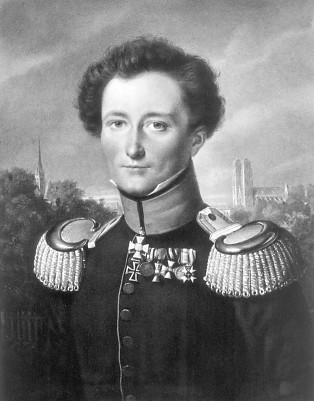 Article abstract: Clausewitz played an important role in Prussian military and political history during the Napoleonic Wars. He is best known, however, as the leading philosopher of war. His most famous work, On War, has been characterized as "not simply the greatest, but the only great book about war."
Early Life
Carl von Clausewitz was born into a Prussian family that, despite its pretensions to nobility, was in fact of middle-class origins. The elder Clausewitz had obtained a commission in the army of Frederick the Great but was forcibly retired during Frederick's purge of nonnoble officers after the Seven Years' War. Clausewitz seems, however, to have believed in the family's claim to noble status; on the basis of his own achievements, Clausewitz had his claim confirmed by the King of Prussia in 1827.
The ambiguity of Clausewitz's social position may be a key to understanding his life and personality, although it does not appear to have blocked his advancement. He tended, as his correspondence and comments by contemporaries reveal, to feel and to be treated like an outsider. Sensitive, shy, and bookish by nature, he could also be passionate in his politics, his love for his wife, and his longing for military glory. Slim and rather handsome, he frequently displayed coolness and physical courage in battle. His keen analytical intelligence was accompanied by a certain intellectual arrogance. These qualities may account for the fact that, although he rose to high rank in the Prussian service, he served always as a staff officer rather than as a commander.
Clausewitz entered the Prussian army as a cadet at the age of twelve; he first saw combat, against revolutionary France, at thirteen. After 1795, he spent five years in the rather dreary garrison town of Neuruppin. There, he applied himself energetically to his own education, a project in which he was so successful that he was able to gain admission to the new War College in Berlin in 1801. With this appointment, his rise to prominence had begun.
Life's Work
The director of the War College was Gerhard Johann von Scharnhorst, who was to become Clausewitz's mentor and a key figure in the Prussian state during the upheavals of the Napoleonic Wars. Many of Clausewitz's basic historical, political, and military views derived from the influence of Scharnhorst and other Prussian military reformers.
Clausewitz was graduated first in his class in 1803 and was rewarded with the position of military adjutant to the young Prince August. The same year, he met and fell in love with his future wife, the Countess Marie von Brühl. Yet the ambiguity of his social background and his poverty posed problems. Marie's family would resist this poor match for seven years, until Clausewitz's rapid promotion undermined their objections to a marriage.
Prussia had remained at peace with France since 1795 but, alarmed at the devastating French victories over Austria and Russia in 1805, mobilized for war in 1806. Clausewitz and most other Prussian officers anticipated the struggle with confidence, but the timing was poor and the nation was ill-prepared. The Prussian forces were shattered in humiliating defeats at Jena and Auerstedt. Both Clausewitz and Prince August were captured. The experience was both shocking and enlightening for Clausewitz. When he returned from internment in 1808, he joined Scharnhorst and the other members of the reform movement in helping to restructure both Prussian society and the army, in preparation for what Clausewitz believed to be an inevitable new struggle with the hated French. His enthusiasm was not, however, shared by the king, who was more concerned with maintaining his position in the much-reduced Prussian state. Clausewitz's disillusionment reached a peak when Prussia, allied with France, provided an army corps to Napoleon I to assist in the 1812 invasion of Russia. Along with about thirty other...
(The entire section is 2,042 words.)