Biography
(History of the World: The 20th Century)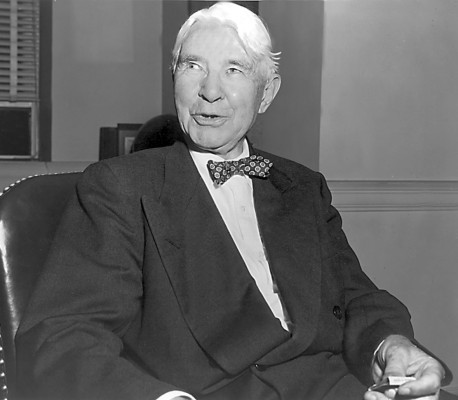 Article abstract: A prolific writer of verse and prose for adults and children, Sandburg extended the poetic techniques of free verse and glorified the American working person as its subject. He also sought to revitalize the biographical format by making it more human.
Early Life
Second of seven children, Carl August Sandburg grew up in Abraham Lincoln country in Illinois, absorbing the Lincoln lore and the hotly argued local politics. During the Panic of 1893, fourteen-year-old Sandburg dropped out of school after finishing eighth grade to help his family financially. He did not get along with his austere Swedish immigrant father but shared his mother's love of books, learning, and word play.
In 1897, at the age of nineteen, a restless Sandburg headed West and became infatuated with the lifestyles of "gay-cats" or hoboes, who exchanged songs and stories around campfires. As he worked in the wheat fields of Kansas, chopped wood, and washed dishes along the way, he filled his pocket journal with the lingo of strangers, memorable stories, and plaintive songs of the road. His travels made him identify with working-class people and the displaced, alerted him to critical social problems of the 1890's, and provided materials for his later poetry and prose. Unwilling to settle down, Sandburg volunteered to serve in the Spanish-American War (1898-1899), which left within him a lifelong hatred of war.
As an 1899 war veteran entitled to free college tuition, Sandburg entered Lombard College in Galesburg despite not having earned a high school diploma. From 1899 to 1902, Sandburg became a good student, excelling in basketball and developing a passion for literature. He identified, in particular, with American poet Walt Whitman and imitated Whitman's free verse (poetry without predictable rhyme, meter, or format). Sandburg left Lombard College in 1902 without graduating because he took only "interesting" courses rather than those counting toward graduation. Before he left, however, he came under the tutelage of Professor Philip Wright who, recognizing Sandburg's poetic talents, later privately published Sandburg's early poems in the collection In Reckless Ecstasy (1904).
Between 1902 and 1908, Sandburg became a vagrant, a peddler, a fireman, a lecturer, and a writer. As he roamed the country, he stored observations in his notebooks, studied experimental poetry, and wrote biting newspaper columns on strikes, sweatshops, and socialism. In 1907, he organized workers for the Socialist Party and spoke on street corners about needed government reforms, women's rights, and child-labor exploitation. Sandburg began a six-month courtship with schoolteacher Lilian Steichen in Milwaukee, Wisconsin, resulting in marriage in 1908.
In constant need of money for his growing family, Sandburg increased his hectic pace—campaigning for socialist candidates, doing investigative journalism, lecturing, and selling advertising. From 1912 until the late 1920's, Sandburg worked as a newspaperman and movie critic, primarily in Chicago, Illinois. Late nights found him tinkering with his unconventional poems, which, when submitted to professional magazines, were rejected by unimpressed editors because they did not follow traditional expectations. Tall, gaunt, and with serious eye problems, Sandburg struggled to find his poetic niche, encouraged only by his wife.
Life's Work
In 1913, a disheartened, thirty-six-year-old Sandburg sent a batch of his rejected poems about corrupt, energetic Chicago to a new magazine, Poetry: A Magazine of Verse. Editor Harriet Monroe of Poetry —startled by Sandburg's unorthodox poetic forms, hard style, and original subject matter, which ranged from brutal images to lyrical beauty—published his poems in March, 1914. Some Chicagoans hated Sandburg's unflattering portrait of Chicago and protested his "hog butcher" school of poetry, while others saw him as a rebel...
(The entire section is 3,500 words.)