Introduction
(Twentieth-Century Literary Criticism)
Carl Rogers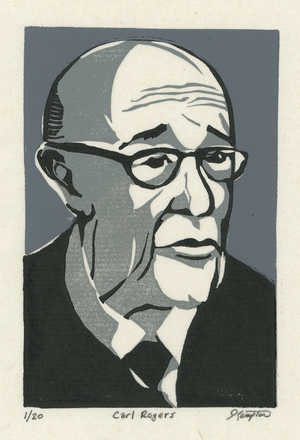 Carl Rogers 1902-1987
(Full name Carl Ransom Rogers) American psychologist.
Rogers was among the most influential figures of humanistic psychology, a school of psychotherapy that rejected medical and psychoanalytic models of treatment and instead put forth a theory of personality and behavior that presumed the source of psychological health ultimately resides in the individual person rather than in a program based on the expert knowledge and authority of a psychiatric professional. Rogers's specific form of humanistic psychology is broadly based on his view of human personality, which he believed naturally tended to develop in what he considered a healthy manner unless it is adversely influenced by life experiences. From this theoretical basis, Rogers created a form of therapy that he called "client-centered," as opposed to forms of treatment that are directed by the expertise of the therapist.
Biographical Information
Rogers was born on January 8, 1902, in Oak Park, Illinois. One of six children born into the family of a contractor/engineer and his wife, he characterized his childhood environment as "anti-intellectual" and dominated by a religiosity of the fundamentalist type. Raised on a farm from the age of twelve, Rogers entered the Agricultural College of the University of Wisconsin in 1919, although he ultimately graduated with a degree in history. While in college he felt a religious calling and eventually began training to become a Protestant minister, and after graduating in 1924 he enrolled at the Union Theological Seminary in New York City. From there he transferred to Teachers College at Columbia University in order to pursue counseling rather than the strictly religious aspect of his ministerial profession. He subsequently focused on clinical and educational psychology, writing his doctoral dissertation on personality adjustment in children. Throughout the 1930s, Rogers worked in the field of child psychology, and in 1940 he accepted a position as a professor of psychology at Ohio State University. It was at this time that he began to develop the theories and methodology for which he would later become renowned. The incipient concepts of Rogers's therapeutic approach appeared in his 1942 book Counseling and Psychotherapy, and within the next few years he developed his concept of the self as the organizing element in human personality and the principles of the "nondirective," or client-centered, style of therapy. In 1945 he took a position as professor of psychology and head of the counseling center at the University of Chicago, where, over the next twelve years, he further refined and articulated his ideas, publishing Client-Centered Therapy (1951) during this time. A charismatic figure, Rogers's influence over students, colleagues, and various collaborators, as well as his publication of best-selling books such as On Becoming a Person (1961) and Person to Person (1967), made him the central figure in American humanistic psychology throughout his lifetime. In addition, with the establishment of the Center for the Study of Persons in 1968, the principles of the client-centered version of therapy came to be applied in other contexts and institutional settings, including marriage relationships, school systems, larger-scale community groups, and corporations. Until his death in 1987, Rogers remained active in promulgating his view of the nature of human personality and procedures for correcting psychological disorders.
Major Works
Rogers's therapeutic scheme as outlined in his books and practiced in therapy is premised on the existence within each individual of what he termed the "organismic valuing process," sometimes described as an internal monitor of a person's experiences in life that, under favorable circumstances, allows the development of healthy men or women possessing optimum self-esteem and an accurate sense of who they "really are" as well as who they would ideally...
(The entire section is 1,127 words.)