Discussion Topics
(Masterpieces of American Literature)
What examples of vivid sensory details can you find in "The Luck of Roaring Camp"? What do they contribute to the story?
How plausible is the motivation of the characters in "The Outcasts of Poker Flat"?
What, other than his virtual invention of the genre, were Bret Harte's contributions to the American Western story?
What are the advantages and disadvantages of Harte's type of third-person narration?
What facts of the second half of Harte's life (including extraneous events) best account for his literary decline?
Other Literary Forms
(Literary Essentials: Short Fiction Masterpieces)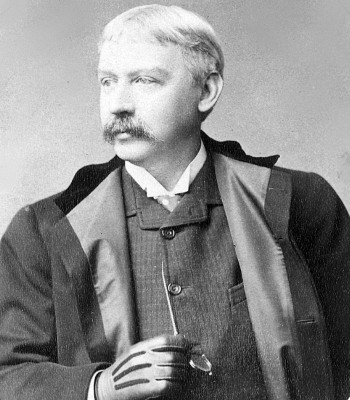 Bret Harte attempted practically every form of belles lettres common in the nineteenth century. He wrote several collections of poems, almost entirely forgotten in the years since his death. Indeed, his poetic reputation to modern readers depends completely on the success of one poem, his comic verse masterpiece "Plain Language from Truthful James," more commonly known as "The Heathen Chinee," published in 1870. He wrote and edited newspaper material, essays, the novel Gabriel Conroy (1876), and some excellent satirical work, notably his Condensed Novels; and he collaborated with Mark Twain on a play, Ah Sin (1877), based on his poem "The Heathen Chinee."
Achievements
(Literary Essentials: Short Fiction Masterpieces)
Bret Harte's influence on "local color" fiction, especially the literature of the American West, was profound but not totally fortunate. He was one of the earliest writers, and certainly the most influential one, to set stories on the mining frontier that evolved from the California gold rush of 1849. His interest in the Western story and his success in transforming his raw material into popular fiction led many subsequent writers to explore American Western themes that they might otherwise have dismissed as unworthy of serious notice. Harte's stories, however, focusing on colorful characters that he deemed worthy of treatment for their own sake, tend to undervalue plot and setting, and his contrived plots and sentimental treatment of character gave subsequent Western fiction an escapist, juvenile bent, which it took a long time to outgrow.
Bibliography
(Masterpieces of American Literature)
Barnett, Linda D. Bret Harte: A Reference Guide. Boston: G. K. Hall, 1980. With a brief introduction outlining the historical directions of Harte scholarship and criticism, this work provides a good annotated bibliography and checklist through 1977.
Duckett, Margaret. Mark Twain and Bret Harte. Norman: University of Oklahoma Press, 1964. Duckett's book is an intriguing and carefully documented history of the friendship and literary association of Twain and Harte and their eventual falling out and feud. Includes illustrations and a bibliography through 1963.
Hall, Roger. "Annie Pixley, Kate Mayhew, and Bret Harte's M'Liss." ATQ, n.s. 11 (December, 1997): 267-283. Discusses the struggle in 1878 over the rights to M'Liss, a play based on a story by Bret Harte; claims that the struggle indicates the chaotic state of copyright laws, contracts, and play "pirates" in the late nineteenth century.
Morrow, Patrick. Bret Harte. Boise, Idaho: Boise State College, 1972. This brief but excellent study analyzes Harte's major work in both literature and criticism. Although concise, it is a very helpful introduction. Supplemented by a select bibliography.
Morrow, Patrick. Bret Harte, Literary Critic. Bowling Green, Ohio: Bowling Green State University Popular Press, 1979. Morrow surveys and analyzes what he considers a very neglected part of Harte's work, his literary criticism. He establishes Harte's significance in the "local color" movement. Contains a useful bibliography of primary sources.
Morrow, Patrick. "Bret Harte, Mark Twain, and the San Francisco Circle." In A Literary History of the American West. Fort Worth: Texas Christian University, 1987. This important chapter covers the contributors to the Western journals between 1865 and 1875, placing emphasis on Harte.
Nissen, Axel. Bret Harte: Prince and Pauper . Jackson: University Press of Mississippi, 2000. This...
(The entire section is 982 words.)