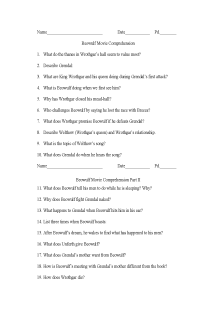 Beowulf Movie Comprehension Worksheet
by esmcgrew
Release Date: February 12, 2019
Age Levels: Grade 12
Purchase a Subscription
Excerpt
Beowulf Movie Comprehension Part I
What do the thanes in Wrothgar's hall seem to value most?
What are King Wrothgar and his queen doing during Grendal's first attack?
What is Beowulf doing when we first see him?
Why has Wrothgar closed his mead-hall?
Who challenges Beowulf by saying he lost the race with Brecca?
What does Wrothgar promise Beowulf if he defeats Grendal?
Describe Welthow (Wrothgar's queen) and Wrothgar's relationship.
What is the topic of Welthow's song?
What does Grendal do when he hears the song?
Beowulf Movie Comprehension Part II
What does Beowulf tell his men to do while he is sleeping? Why?
Why does Beowulf fight Grendal naked?
What happens to Grendal when Beowulf hits him in his ear?
List three times when Beowulf boasts:
After Beowulf's dream, he wakes to find what has happened to his men?
What does Unferth give Beowulf?
What does Grendal's mother want from Beowulf?
How is Beowulf's meeting with Grendal's mother different from the book?
What is the dragon to Beowulf?
About
Students watch the movie Beowulf (animated version) and answer questions about what is happening.