Download The Autobiography of Miss Jane Pittman Study Guide
Subscribe Now
Places Discussed
(Critical Guide to Settings and Places in Literature)
Bryant plantation
Bryant plantation. Louisiana farm on which Jane Pittman is born into slavery with the name Ticey. There she spends the first ten years of her life. Things begin to change when the Civil War reaches the plantation—first when a Confederate army occupies it, then when a Union army arrives. Rejecting her slave identity by insisting that her name is Miss Jane Brown, Ticey is whipped and returned to field work.
After hearing about President Abraham Lincoln's Emancipation Proclamation, the idealistic Jane expects to find freedom in the North and tries to make her way to Ohio with a younger boy, Ned. She and Ned struggle through swamps and farms burned and devastated by war. After thinking she has reached Ohio, she discovers the bitter truth that she is still in Louisiana.
Bone plantation
Bone plantation. Prosperous Louisiana plantation much like Bryant's, where Jane lives in a sparsely furnished cabin for about ten or twelve years after she gives up on reaching Ohio. After she enjoys life in an environment safe from post-Civil War Reconstruciton violence and receives some education from an excellent schoolteacher, violence eventually reaches the plantation and her situation reverts to a condition resembling slavery.
Clyde farm
Clyde farm. Place on the Louisiana-Texas border that becomes Jane's happiest home. There she lives for ten years with her common-law husband Joe Pittman and his two daughters. Joe's job of breaking wild horses and their meager cash income give Joe a sense of manhood and independence, but Jane still feels like a slave working as Mr. Clyde's cook.
*Bayonne
*Bayonne. Louisiana town near where Jane has a home on the St. Charles River—a site based upon Gaines's own birthplace near New Roads, Louisiana. There Jane lives with another man for three years and then is rejoined by Ned. The peaceful fishing she enjoys on the river with the sinister Albert Cluveau contrasts ironically with Cluveau's cold-blooded killing of Ned, whose spots of blood the rain cannot wash away. A threat to the social order in the South, Ned teaches African Americans that their "people's bones and their dust make this place yours more than anything else."
Samson plantation
Samson plantation. Louisiana sugar cane and cotton farm on which Jane lives from around 1911 until the 1960's, when she is interviewed by the novel's fictional author. The Samson family tries to exert traditional white social control over its black employees, who become increasingly outspoken and assertive as the years go by, and the story concludes with Jane becoming an active participant in the Civil Rights demonstrations of the 1960's.
Historical Context
(Novels for Students)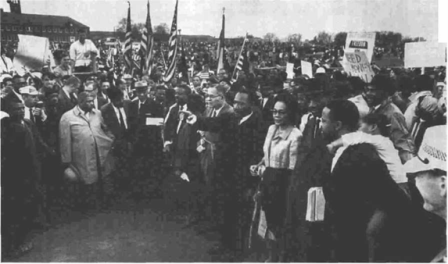 The Civil Rights Movement in Louisiana
In 1971, when Ernest Gaines published The Autobiography of Miss Jane Pittman, the United States had just seen a time of great social and political upheaval. Throughout the 1960s, African Americans had been struggling to gain equality. Various types of protests, such as the demonstrations described in the novel, were helping to bring centuries-long practices like segregation and racial discrimination to an end. Civil rights were still in the forefront of many African Americans' minds in 1971. Gaines's home state of Louisiana became famous during the 1960s for two events: the New Orleans school integration crisis and the Bogalusa movement.
In its 1954 Brown v. Board of Education decision, the Supreme Court outlawed segregation in public schools. Nevertheless, by 1960 the New Orleans school board had still made no progress toward integrating its schools. That fall, Judge Skelly Wright forced the board to come up with a plan for integration. Although this plan allowed only four black first-grade girls to attend white schools, opposition from local whites was tremendous. Most parents of white students at the two schools chosen for integration pulled their children out; those who did not were taunted and terrorized by anti-integration neighbors....
(The entire section is 5,997 words.)