Critical Overview
(Nonfiction Classics for Students)
Download The Autobiography of Mark Twain Study Guide
Subscribe Now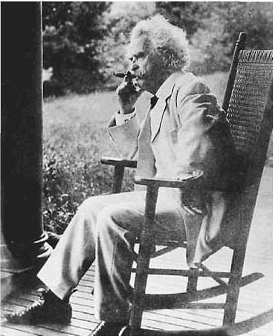 To understand the critical reception of The Autobiography of Mark Twain, one must examine the context in which all of the versions were created and released, the intentions of each editor, and the debate over the works that continues today. Twain's autobiography, in the form that he intended it to be released, exists in the form of a massive, 400,000-word typescript he created in the final years of his life. The manuscript is largely composed of non-chronological, freeform dictations that Twain made to Albert Bigelow Paine, his official biographer, from 1906 until his death in 1910. During these dictations, Twain would say whatever came into his mind, mixing present and past events as he saw fit. Says E. Hudson Long in his Mark Twain Handbook, "Mark's intentions were to make his autobiography a combination of daily diary and memories from the past, a contrast he believed would add interest.''
Twain assembled his dictations, along with other autobiographical writings from the past, into the typescript, which he continued to work on until his death. It was not until 1924, fourteen years after Twain's death, that Paine published a portion of the typescript as Mark Twain's Autobiography. Paine deliberately removed items from the work that he thought might be too controversial, in some cases instructed by the Twain estate to do so, but left the rest in the unconventional order of composition that Twain had intended rather than the true chronological order that most autobiographies follow. This hybrid approach led to mixed reviews. As Charles Neider notes in the introduction to his version of Twain's autobiography, most reviewers commented negatively about the lack of order, although some critics found good things to say about the writing itself and criticized Paine for leaving out some sections.
In 1940 Bernard DeVoto published his version of the autobiography, Mark Twain in Eruption, which left out all of the material from Paine's version, and only included part of the remaining manuscript. He edited his version heavily, imposing a thematic order on it that was directly contrary to Twain's intentions. He did, however, include some of the controversial items that Paine left out, which whetted critics' appetites. Atlantic Monthly critic Robert M. Gay read the book eagerly,"half expecting to find a chamber of horrors. In it, I suspected, we should at last get to the bottom of Mark Twain's tragic mystery which we have heard so much about.'' Unfortunately, as Gay remarked in his review, the passages did ''not prove to be soul-shaking revelations.''
In 1959 Neider tackled the typescript. Like DeVoto, Neider ignored Twain's original intentions and imposed his own views on how the...
(The entire section is 655 words.)