Biography
(History of the World: The 19th Century)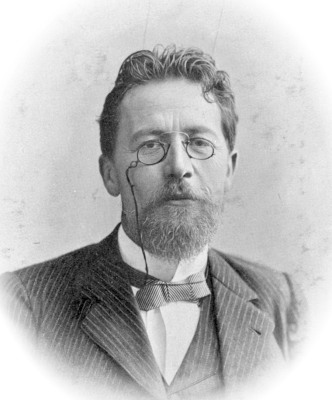 Article abstract: Although Chekhov had a significant impact on the creation of modern drama with his four major plays, his most important influence has been on the development of the modern short story. With his numerous lyrical stories, Chekhov liberated the short story in particular from its adherence to the parable form and fiction in general from the tedium of the realistic novel.
Early Life
Anton Chekhov was born on January 29, 1860, in a small port town on the Sea of Azov in the Crimea. His grandfather was a former slave who bought his own freedom. In what is perhaps the best-known remark Chekhov ever made about his life, he said he felt the necessity to "squeeze the slave" out of himself. Chekhov's father, Pavel Egorovich, owned a small general store in which Chekhov worked as a child. When Chekhov was sixteen, however, his father had to declare bankruptcy and escape his creditors by going to Moscow. Chekhov's mother, along with the two youngest children, followed soon after. Chekhov stayed behind as a tutor to the son of one of his mother's former boarders.
After living in poverty and fending for himself for three years, Chekhov was graduated from high school in Taganrog and went to Moscow to enter medical school at Moscow University. Because his father had a low-paying job outside town and was only home on Sundays and holidays, Chekhov had to assume the role of head of his family's household and find work. Having shown an early interest in writing while he was a child in Taganrog, he sought to supplement his family's meager income by contributing anecdotes and stories to humorous magazines, especially at the urging of his elder brother Aleksander, who was already earning a small income by publishing in such magazines. At first Chekhov had little success with his writing efforts, but in March, 1880, his first story was published in the humor journal Strekoza (dragonfly). Chekhov later called this the beginning of his literary career.
Life's Work
In 1882, Chekhov became a regular contributor of jokes and anecdotes to a weekly St. Petersburg magazine, Oskolki (fragments), edited by Nikolai A. Leikin. He submitted a large number of short pieces to the journal, many under various pseudonyms. By 1884, he had published more than two hundred short pieces, but when his first collection, Skazki Melpomeny (1884; Tales of Melpomene, 1916-1923), was published, he included only twenty of them. Also in 1884, Chekhov finished his degree and began practicing medicine. By the following year, when he went to St. Petersburg, he found, much to his surprise (because he did not consider his work significant), that he was quite well known as a writer there.
Chekhov's increasing desire to write more serious fiction, however, made him chafe against the restrictions of the humor magazines, as well as against Leiken's insistence that he stick to jokes. Thus, when Aleksey S. Suvorin, the owner of the influential newspaper Novoye vremya (new times), asked Chekhov to contribute more substantial stories to his newspaper, Chekhov was pleased to comply. During 1886 and 1887, Chekhov wrote a large number of stories and short pieces for Suvorin, including some of his best-known stories. His second collection, Pystrye rasskazy (motley stories), was published in 1886, and a third, V sumerkakh (in the twilight), was published in 1887.
Still, Chekhov was not personally satisfied with his work, believing it to be ephemeral. Moreover, in 1886, he began to suspect that he had tuberculosis, although he refused to have another doctor give him an examination. In this spirit of anxiety about his health and dissatisfaction with his work, Chekhov left on a trip to his hometown in the Crimea to visit friends and relatives. This trip seemed to rejuvenate him, for several important stories of the provincial life of the people he encountered resulted from it. Perhaps the most important result of the journey, however, was his lyrical...
(The entire section is 5,604 words.)