Other Literary Forms
(Critical Edition of Dramatic Literature)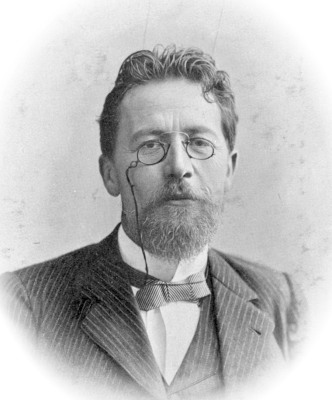 Within the ten-volume edition of his works published in 1901, Anton Chekhov included 240 of the hundreds of stories he had written for dozens of newspapers and magazines. Many of these stories were collected and published in hardcover form as Chekhov progressed in his career: Pystrye rasskazy (1886; motley stories), Nevinnye rechi (1887; innocent tales), V sumerkakh (1887; in the twilight), and Rasskazy (1888; stories). Some of his most famous stories are "Gore" ("Sorrow"), "Toska" ("Misery"), "Step'" ("The Steppe"), "Skuchnaya isoriya" ("A Dreary Story"), "Palata No. 6" ("Ward No. 6"), "Chorny monakh" ("The Black Monk"), "Tri goda" ("Three Years"), "Muzhiki" ("Peasants"), "Kryzhovnik" ("Gooseberries"), "Dushechka" ("The Darling"), "Dama s sobachkoi" ("The Lady with the Dog"), and "Nevesta" ("The Betrothed"). In addition, Chekhov wrote a work of reportage on conditions on the island penal colony of Sakhalin: Ostrov Sakhalin (1893-1894).
Achievements
(Critical Edition of Dramatic Literature)
Anton Chekhov began writing as a means of earning an income, and in doing so he built up a large audience for his comic tales, which he wrote at a rate of more than one per week. At the same time, he attracted the attention and approval of a broad range of writers and critics. As his career progressed and his literary efforts grew more serious, his appeal never wavered, and his popularity and reputation continued to grow as he expanded into drama. In 1900, he became one of the first ten literary members of the Russian Academy of Sciences, inducted at the same time as Leo Tolstoy, and during his life he influenced many younger writers, including Maxim Gorky. Since his death, his reputation has grown steadily, and now he is universally recognized as one of the founders of modern drama and one of the greatest of short-story writers.
Other Literary Forms
(Literary Essentials: Short Fiction Masterpieces)
Anton Chekhov's literary reputation rests as much on his drama as on his stories and sketches, despite the fact that he was a far more prolific writer of fiction, having written only seventeen plays but almost six hundred stories. Chayka (1896, rev. 1898; The Seagull, 1909), Dyadya Vanya (1897; Uncle Vanya, 1914), Tri sestry (1901; Three Sisters, 1920), and Vishnyovy sad (1904; The Cherry Orchard, 1908), Chekhov's chief dramatic works, are universally considered classics of modern theater. Chekhov was also an indefatigable correspondent, and his letters, along with his diaries and notebooks, form an important segment of his writing. He also wrote numerous journal articles and one long work, Ostrov Sakhalin (serialized in 1893 and 1894), a scholarly exposé of an island penal colony that Chekhov visited in 1890.
Achievements
(Literary Essentials: Short Fiction Masterpieces)
In his lifetime, Anton Chekhov gained considerable critical acclaim. In 1888, he won the Pushkin Prize for his fiction, and in 1900, he was selected to honorary membership in the Russian Academy of Sciences for both his fiction and his drama.
Chekhov's fiction departs from the formulaic, heavily plotted story to mirror Russian life authentically, concentrating on characters in very ordinary circumstances that often seem devoid of conflict. A realist, Chekhov treads a fine line between detachment and a whimsical but sympathetic concern for his subjects. In his mature work, he is perhaps the most genial of Russian masters, compassionate and forgiving, seldom strident or doctrinaire. Equally important, that mature work reflects very careful artistry, worthy of study for its technique alone.
Discussion Topics
(Masterpieces of World Literature, Critical Edition)
Describe Anton Chekhov's use of nature to emphasize the actions and thoughts of the characters in several major plays.
Consider how the physician characters in The Seagull and Uncle Vanya might serve as the playwright's mouthpiece as they observe the characters about them.
Examine how Chekhov uses soliloquies, fragments of speech, and public utterances to reveal the inner being of his characters.
A common Chekhovian theme is the isolation of people and their failure...
(The entire section is 1,797 words.)