Biography
(Great Authors of World Literature, Critical Edition)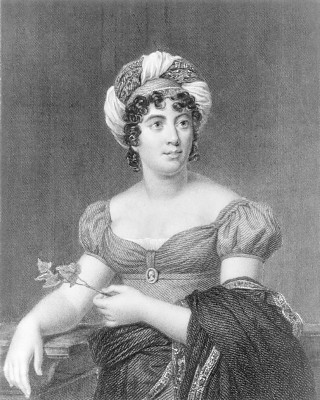 Madame de Staël (stahl) was born Anne Louise Germaine Necker in Paris on April 22, 1766, and was the only child of Jacques Necker and the former Suzanne Cuchod from Geneva. A wealthy Swiss banker who became the minister of finance to Louis XVI, Jacques Necker was idolized by his daughter. Ostensibly because the king had dismissed Necker from his ministry, the French people stormed the Bastille in 1789, carrying its seven prisoners away in triumph; as a result, the king was forced to ask Necker to return. Necker returned but was ineffective and resigned in September of 1790; he retired to Coppet, leaving two million francs of his own in the state treasury. One trait that Germaine shared with her indulgent father was her ability to preserve the Necker fortune and to pass it on, undiminished, to her children.{$S[A]De Staël, Madame[DeStaël, Madame];Staël, Madame de}{$S[A]Necker, Anne Louise Germaine;Staël, Madame de}
She received an Enlightenment education. Taught by her Calvinist mother until the age of thirteen, she was subjected to a rigorous course of study that included Latin and English. The writings of Baron de Montesquieu, the Marquis de Condorcet, Voltaire, and Jean-Jacques Rousseau were major and early influences on her. More important, before she could walk, she became part of her mother's salon, which was frequented by the philosophes, including Denis Diderot, Jean Le Rond d'Alembert, and the Comte de Buffon. It was clear to the young girl that public attention from men for brilliant conversation was not only to be expected but was her birthright as well.
Her arranged marriage to Eric Magnus, Baron de Staël-Holstein, was bereft of emotional and intellectual ties. Nevertheless, his position as the Swedish ambassador to the French court led to an increased sphere of political influence for his wife. Her passionate need for intellectual dialogue and her temperament, which readily subscribed to Rousseau's damnation of human institutions such as marriage, led her into a number of intense love affairs. She and her husband were divorced in 1797. Although her biographers often discuss her faults, no one questions her courage and generosity. Her loyalty to friends and former lovers was unfailing, and even her enemies received her support.
To escape the Reign of Terror she fled to Coppet, Switzerland, where she and the Comte de Narbonne had a son together. She visited England and returned to Paris, where she began her famous love affair with Benjamin Constant. Napoleon exiled her for her political activities in 1803, and she set up her salon at Coppet. Although her Parisian salon was extremely important to her (Napoleon knew that exile from Paris was the worst torture he could inflict on her), Madame de Staël had less need for a home than for dialogue. Truly cosmopolitan at a time when nationalism was becoming increasingly fanatical, she traveled throughout Europe, from England to Italy, Scandinavia, Germany, and Russia, and planned to go to the United States as well. She was accustomed to dealing with royalty and heads of state. No beauty by contemporary standards, she was criticized not only for her liaisons and devouring intellect but also for her outlandish costumes. She nevertheless fascinated men with her candor, her guileless curiosity, and her brilliant gift for conversation.
In 1811 she married Albert de la Rocca, who would survive her by one year. After her years of exile she returned to Paris in 1814 and reopened her salon, gathering about her the leading young republicans of France, who were to overthrow the Bourbon dynasty in 1830. Even after her death on July 14, 1817, her ideas lived on, reflected in the members of her last and greatest salon.
Apart from her books on literature and society, de Staël wrote two romantic novels, Delphine and Corinne, and introduced the popular figure of the misunderstood heroine into French literature. A believer in the inevitability of progress, she set the themes for much of the literature of nineteenth century France and England.