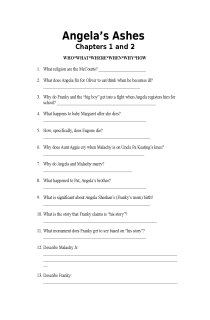 Angela's Ashes Quiz Chapters One and Two
Download PDF


Excerpt From This Document
Chapters 1 and 2
WHO*WHAT*WHERE*WHEN*WHY*HOW
What religion are the McCourts?
What does Angela fix for Oliver to eat/drink when he becomes ill?
Why do Franky and the "big boy" get into a fight when Angela registers him for school?
What happens to baby Margaret after she dies?
How, specifically, does Eugene die?
Why does Aunt Aggie cry when Malachy is on Uncle Pa Keating's knee?
Why do Angela and Malachy marry?
What happened to Pat, Angela's brother?
What is significant about Angela Sheehan's (Franky's mom) birth?
What is the story that Franky claims is "his story"?
What monument does Franky get to see based on "his story"?
What happens when Malachy Sr. goes to the IRA for money?
Why did he feel like he was entitled to money from the IRA?
Describe the Leamy's school which Franky and Malachy Jr. were to attend:
Who do the McCourt's go and visit upon their return from the USA (list both sets of people)?
Who, in your opinion, who helps the McCourts the most upon their return to Ireland?
In what way were they helped?
Discuss the irony in the section of the book where Franky steals fruit from the Italian man's store :
Short Answer
What image, to you, is the most stark and profound that we have encountered in the first three chapters? Why?
Why does McCourt, as author and narrator, choose to NOT use quotation marks and to USE run-on sentences in places? What is the effect of these two rhetorical devices on the story that he is telling?
About this Document
Brief quiz w/ short essay answers at end. This is mostly a check for understanding and a "did you read?" quiz.