Biography
(Masterpieces of American Literature)
Anaïs Nin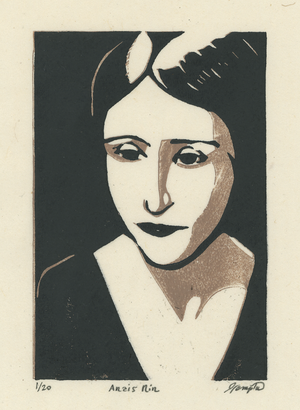 Anaïs Nin was born near Paris on February 21, 1903, into an international, aristocratic, and cultured family. Her parents were Joaquin Nin y Castellano, a Spanish composer and pianist, and Rosa Culmell Nin, a classical singer of French and Danish descent. Their marriage was volatile and ended with Joaquin's desertion for a younger woman. In 1914, the young Anaïs, with her mother and brothers Thorvald and Joaquin, sailed from Barcelona to a new life in New York.
On this journey, Nin began keeping a diary, first as an ongoing letter to her estranged father and then as a detailed record of her experiences and feelings, a record she would maintain throughout her life. The move to the United States was not a happy one for her; she struggled to learn English and felt unwelcome in the impersonal metropolis. An introspective, sensitive, critical, and imaginative child, she attended Catholic school in New York without enthusiasm. At the age of sixteen, after a teacher criticized her writing, she dropped out and pursued self-education in public libraries. Meanwhile, she worked as a model for artists and illustrators to augment her family's income.
In the early 1920's Nin studied briefly at Columbia University and spent time with relatives in Havana, Cuba. She fell in love with a New York banker named Hugh Guiler, and the couple was married in Havana in March, 1923. Though the passion of the marriage faded within several years as Nin realized its limitations and developed her identity as a writer, it remained intact and was, in an unconventional way, successful. Guiler, under the name of Ian Hugo, later provided illustrations for his wife's novels. Nin rarely talked about him, however, and all references to him were edited out of her diary before its first publication in 1966.
Shortly after their marriage, Guiler was transferred to Paris. For Nin it was a return home. In 1924, she saw her father for the first time in a decade and confronted their complex relationship. She continued her self-education and writing, pursued a brief career as a Spanish dancer, and developed many lasting and influential friendships. A teacher named Hélène Boussinescq introduced Nin to modern writers; she and her cousin Eduardo Sánchez shared a fascination with psychological pioneers Sigmund Freud and Carl Jung and novelists D. H. Lawrence and Marcel Proust.
Nin's continuous writing led to her first book, D. H. Lawrence: An Unprofessional Study, published in Paris in 1932. Financial difficulties she suffered following the stock market crash of 1929 led Nin to relocate to a small house in the Parisian suburb of Louveciennes, where she entertained a steady stream of visiting artists and intellectuals. She became intimate with the emerging American writer Henry Miller and his wife June, and Nin strongly encouraged Miller's first novel, Tropic of Cancer (1934).
Miller exposed Nin to his underground milieu of gangsters, addicts, and prostitutes. Her interest in the human psyche led her into psychoanalysis, first with the noted French analyst René Allendy and then with Otto Rank, a controversial disciple of Freud. Her other intimates included French theatrical innovator Antonin Artaud, Peruvian musician and revolutionary Gonzalo More, and the young British author Lawrence Durrell. Throughout her life, both in Paris and in the United States, Nin's social sphere included bright and fascinating figures; these people became like family to her, and she shared their aspirations and struggles.
(The entire section is 1,308 words.)