George Sand Biography
George Sand is the pen name of Amandine Lucile Aurore Dupin, a French writer who lived from 1804 to 1876.
Biography
(History of the World: The 19th Century)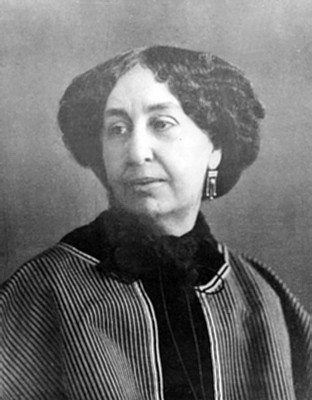 Article abstract: Sand contributed to nineteenth century French literature a prodigious number of important romantic novels, travel writings, and political essays.
Early Life
In many ways, George Sand's early life reads like one of her more improbable romantic novels, with her socially mismatched parents, her eccentric aristocratic grandmother, her unorthodox tutors, her flirtation with Catholicism, her unfortunate marriage, her idealistic quest for love, and her close proximity to the political upheavals of her age.
She was born Amandine-Aurore-Lucile Dupin, in Paris, in 1804, the year of Napoleon I's coronation. When Aurore was only four years old, her father, Maurice Dupin, a dashing officer in Napoleon's army, and a grandson of the illustrious Marshal of Saxe, was thrown from a Spanish stallion and died instantly. Aurore was left alternately in the care of her mother, Sophie, the lowborn daughter of a tavern keeper, and her fraternal grandmother, Mme Dupin de Francueil, a woman of aristocratic background and tastes.
Aurore endured the constant emotional and social friction between her two guardians until 1817, when she was sent to the Couvent des Anglaises in Paris to finish her education. At the convent, she was much appreciated by the nuns, despite her somewhat headstrong ways, and even felt the mystical attractions of a religious vocation. In 1820, to circumvent her taking the veil, Mme Dupin de Francueil brought Aurore home to the family estate at Nohant in Berry. There she learned to ride cross-saddle with her brother Hippolyte Chatiron, began to wear men's clothing for riding, and was taught to shoot by Stephane Ajasson de Grandsagne.
In the summer of 1821, Aurore's grandmother had a severe stroke, and Aurore nursed Mme Dupin de Francueil, an unusually difficult patient, until her death in December of the same year. Shortly afterward, in September of 1822, Aurore married Second Lieutenant Casimir Dudevant, bringing him a large estate of 400,000 francs. Her first child, Maurice Dudevant, was born in June of 1823. Her second child, Solange, probably fathered by Stephane Ajasson de Grandsagne, was born in September of 1828, and signaled the continued deterioration of her hasty marriage to the then-financially dependent and increasingly unpleasant Casimir.
In 1831, Aurore left her husband, and Nohant, for Paris, where she lived with her literary mentor, Jules Sandeau. Together, they coauthored articles for the French publication Le Figaro and, under the pen name Jules Sand, published an apprentice novel, Rose et Blanche (1831). In the early 1830's, Paris was in turmoil, in the aftermath of the July Revolution, and Aurore Dudevant was writing her first independent novel, to be published under the pseudonym George Sand.
Life's Work
In May of 1832, Indiana (English translation, 1833) was published. It was an immediate popular and critical success, launching a distinguished literary career which was to flourish unabated for forty-four prolific years. Sand followed up her first triumph rapidly, in only six short months, with an equally relished novel, Valentine (1832; English translation, 1902). This short period of time between novels was a good indication of the famous, almost notorious, fluency with which Sand was to write throughout her life. In 1832, she published Lélia (English translation, 1978), and these three early works, along with the ones that followed, Jacques (1834; English translation, 1847) and Mauprat (1837; English translation, 1870), were typical of Sand's characteristic concerns: the relationship between men and women, class differences in French society, marriage laws and conventions, and the romantic quest for passionate love. There is no question that Sand, when writing these early novels, was drawing on the experience of...
(The entire section is 1,983 words.)