Comparing Miller's Play with Sophocle's Oedipus Rex
(Drama for Students)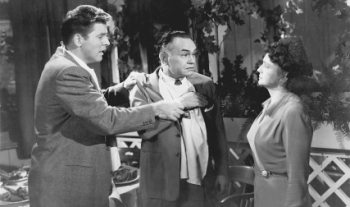 Writing in 1929, almost two full decades before All My Sons opened on Broadway, critic Joseph Wood Krutch wrote a celebrated essay entitled ''The Tragic Fallacy.'' His thesis was that modern audiences could not fully participate in the experience of tragedy because the tragic spirit, so vital and alive in the past, had simply stopped haunting the human landscape. Modern man no longer had tragedy's requisite belief, if not in God or some other power greater than man, then at least in man.
Tragedy, opined Krutch, depended on what he termed the ''tragic fallacy,'' the ''assumption which man so readily makes that something outside his own being, some 'spirit not himself'—be it God, Nature, or that still vaguer thing called a Moral Order—joins him in the emphasis which he places upon this or that and confirms him in his feelings that his passions and his opinions are important.'' Because of the ''universally modern incapacity to conceive man as noble,'' Krutch maintained that dramatists could no longer create tragedies, only ''those distressing modern works sometimes called by its [tragedy's] name,'' works that, rather than celebrate a ''triumph over despair'' while exhibiting a ''confidence in the value of human life,'' simply depicted man's haplessness and insignificance.
For Krutch, modern man's diminished stature makes a character like Oswald Alving of Ibsen's Ghosts a far more ''relevant'' character than Shakespeare's Hamlet. Krutch essentially indicts his contemporaries for allowing the tragic light to fade from the universe.
Arthur Miller, as he makes clear in his early plays All My Sons, Death of a Salesman, The Crucible, and A View from the Bridge, was unwilling to admit that the light was gone. For him, a tragic consciousness still existed, even in the most ordinary sort of people. As he wrote in his piece called ''Tragedy and the Common Man,'' he believed that ''the tragic feeling is evoked in us when we are in the presence of a character who is ready to lay down his life, if need be, to secure one thing, his sense of personal dignity.''
Moreover, Miller claimed, ''the common man is as apt a subject for tragedy in its highest sense as kings were,'' a heretical view for those critics whose definition of tragedy was largely delimited by Aristotle's Poetics.
Orrin Klapp, pondering what he called Americans' ''armor against tragic experience,'' found a partial explanation for it in the ''actual shrinkage in the stature of the heroes being presented,'' a reduction in human significance that made it almost impossible ''to see them as having the dignity necessary to be tragic.''
For Miller, nobility of soul is not contingent upon rank at all; it rather rests on an individual's moral integrity and, at the last, a willingness to face the consequence of a fateful decision and shoulder its attendant guilt.
All My Sons was Miller's first attempt to write such a tragedy of the common man, and although with Death of a Salesman, his next play, he made almost a quantum leap forward in technique, in the former work he created a prototype for all his common-man, familial tragedies, including the latter. In it he welded features of classical tragedy to the realistic thesis play in the tradition of Ibsen, maintaining a surface verisimilitude while advancing a plot designed in accordance with the logic of causality and plausible human motives.
Academically at least Sophocles seems to haunt All My Sons. As more than one critic has noted, the parallels between Miller's play and the Greek tragedian' s masterpiece, Oedipus Rex, are readily apparent. W. Arthur Boggs maintains, for example, that like Oedipus Rex, Miller's play is a ''tragedy of recognition.''
There is, of course, one major and obvious difference: the works do not share a commensurate tragic scope. The hamartia of Oedipus, the killing of his father, has...
(The entire section is 6,656 words.)