Biography
(History of the World: The 19th Century)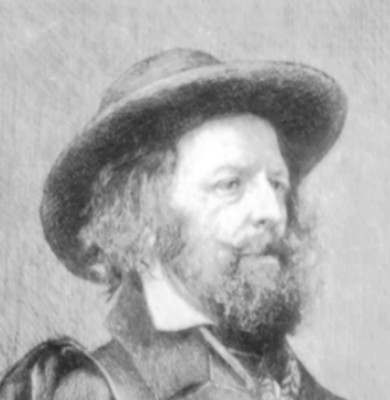 Alfred, Lord Tennyson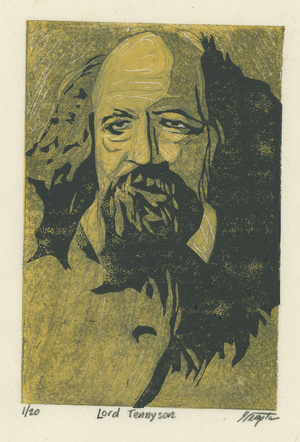 Article abstract:
Generally considered to be the quintessential Victorian poet, Tennyson grappled with grief in the midst of the most profound theological crisis in the history of the modern world, caused by the emergent theory of evolution. Tennyson's poetry of spiritual struggle and affirmation captured the soul of his generation.
Early Life
Alfred Tennyson was born on August 6, 1809, the fourth of George Tennyson's twelve children. His mother, née Elizabeth Fytche, was an easy-going and indulgent woman who encouraged her children's literary efforts. At the rectory, young Alfred had access to his father's twenty-five-hundred-volume scholarly library, which included books on theology, philosophy, history, classical and Oriental literature, and science. Although Tennyson was educated formally first at a village school and later at a boys' school in Louth, the majority of his preuniversity instruction was received at home under his father's supervision. George Tennyson was an intellectually gifted and well-educated man whose intelligence and learning were undermined by his emotional instability. Alfred Tennyson's tempestuous and insecure home life during childhood fostered periods of despondency that were severe enough to affect adversely his physical health throughout his lifetime. Yet despite having to undertake numerous water cures for a variety of ailments which were indiscriminately identified as gout, Tennyson lived a long and productive life. Although the instability of his early years contributed to his unhappiness, it also deepened his sensitivity to the spiritual turmoil of his generation.
Six months before Tennyson commenced his studies at Cambridge University in 1827, a volume entitled Poems by Two Brothers was published by a Lincolnshire bookseller. It was in fact a collection by three brothers; half of the poems it contained were written by Alfred Tennyson, while the other poems were contributed by his elder brothers Frederick and Charles. The volume received little notice, but it did allow Tennyson to enter university with some confidence in his poetic ability. His physical appearance, as it was described upon his arrival at Cambridge, communicated a greater confidence than he felt. Standing more than six feet tall, he towered above his fellows, and his broad chest and massive head were imposing. His swarthy handsomeness, deep brown eyes, and long, dark, unkempt hair gave him a mysterious, romantic air. Severe shortsightedness lent him a remote gaze which was often mistaken for aloofness. His poor eyesight also contributed to his social ineptness on occasions when he would either scrutinize his companions at an awkwardly close range or else, insecure without visual cues, withdraw from general conversation entirely.
At Cambridge, in 1829, Tennyson made the most important acquaintance of his life. Arthur Henry Hallam, who had been a fellow competitor for the Chancellor's gold medal for English verse, which Tennyson won with his poem "Timbuctoo," became not only his closest friend but also his literary advocate. He encouraged Tennyson to publish his first notable collection of poetry, Poems, Chiefly Lyrical, in 1830 and anonymously gave it a favorable commentary in The Englishman's Magazine in 1831. In his review, Hallam defined Tennyson's style in terms which modern critics have described as an anticipation of Symbolist poetics. Tennyson's enduring dislike of magazine criticism began with a scathing review of Poems, Chiefly Lyrical in Blackwood's Magazine in 1832. Because of his fear of poor reviews, Tennyson was hesitant to publish new poems, a tendency which remained with him throughout his career. Yet this fear also drove him to scrupulous revision, which often improved his work.
Life's Work
Tennyson was recalled to Somersby immediately before his father's death in March, 1831, and he never returned to...
(The entire section is 2,882 words.)