Other Literary Forms
(Critical Edition of Dramatic Literature)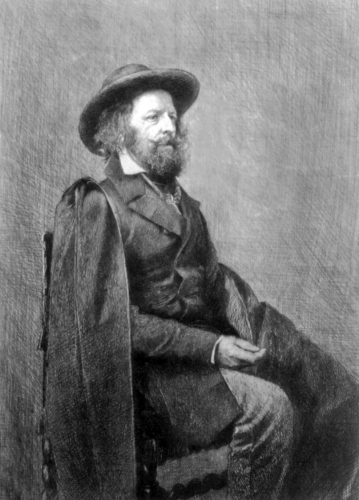 Alfred, Lord Tennyson's plays were an interlude in his long and distinguished career as a poet. During his lifetime, he published more than fifteen volumes of poetry, which have been collected into the nine-volume The Works of Tennyson (1907-1908), edited by his son, Hallam, Lord Tennyson. At the insistence of Sir Arthur Sullivan, Tennyson wrote a song cycle, The Window (1870), which Sullivan set to music. Several songs from The Princess (1847) were also set to music, one by Benjamin Britten in Serenade for Tenor, Horn, and Strings, Opus 31. Tennyson's letters from 1821 to 1892 have been edited by Cecil Y. Lang and Edgar F. Shannon and have been published in three volumes.
Achievements
(Critical Edition of Dramatic Literature)
Alfred, Lord Tennyson's achievements as a dramatist are of interest primarily for the light they shed on his poetry. Tennyson was the best known and most loved poet of the Victorian period, but his fame and popularity were purchased at a high price. Honors were plentiful: his appointment as poet laureate after William Wordsworth's death, his audiences with the Queen, his peerage, his burial in Westminster Abbey. During his last twenty years, his birthdays were solemnized almost as national holidays. Lakes in New Zealand, agricultural colonies in South Africa, and roses in England were named for him. His views on all subjects were eagerly sought and accepted. With such great expectations, it would take a most exceptional man to resist, and Tennyson, unfortunately, was not exceptional enough. He tried to be the spokesperson of his country, and he published more than he should have. Earlier in his career, he showed that he could profit from sound criticism and became a better poet, but once the criticism stopped, he lost his own critical sense.
After his death, the inevitable reaction occurred, and it became so radical a shift that "Tennysonian" became a term of mockery and contempt. Tennyson had been the symbol of his age, and the twentieth century could see nothing worthy of preserving from the Victorian era. Tennyson's ability to inspire and console his age led later readers to denounce him for his moralizing. This "debunking period" was perhaps necessary to achieve a more balanced view of his accomplishments. Modern assessments have emphasized the division within Tennyson, who was caught between the mysticism of the Romantics and the dogmatism of the Victorians. He was a poet who wrote about the eternal tensions of withdrawal and involvement, of doubt and faith, of the fanciful and the real. His technical virtuosity, his impressionistic rendering of scenes, his dedication to the poet's calling, and his place in a tradition all contribute to his reputation as a major poet and assure him a lasting place in the history of English literature.
Other literary forms
(British and Irish Poetry, Revised Edition)
Although Alfred, Lord Tennyson (TEHN-ih-suhn), is best known today for his poetry, he wrote several dramatic works that were popular in his own day. His first play, Queen Mary, was published in 1875. From that time until his death he continued writing verse dramas: Harold (pr. 1876), The Falcon (pr. 1879), The Cup (pr. 1881), Becket (pb. 1884), and The Foresters (pr., pb. 1892). Most of these were staged very successfully. The renowned producer and actor Henry Irving starred opposite Ellen Terry in The Cup, which ran for more than 130 nights. Irving also produced Becket several times after Tennyson's death, achieving success in both England and the United States. Generally speaking, however, his contemporaries' judgment that Tennyson was a greater poet than a dramatist has been confirmed by modern critics. Tennyson's only prose composition was also a play, The Promise of May (pr. 1882); it was not well received by theatergoers. Although he published no criticism in his lifetime, Tennyson, like most of his contemporaries, expressed his critical opinions of his own and others' works in his conversations and in numerous letters. Hallam Tennyson's two-volume Alfred, Lord...
(The entire section is 1,710 words.)