Biography
(History of the World: The 19th Century)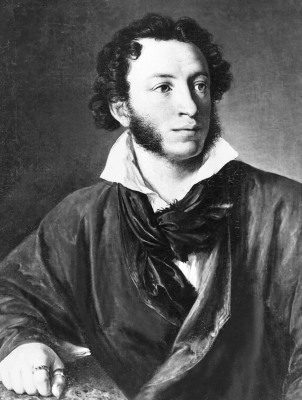 Article abstract: Revered by generations of Russian writers, Pushkin's largest legacy is in poetry, and his literary memory is compounded by the fact that his works inspired internationally celebrated operas, ballets, and films.
Early Life
Alexander Pushkin was born in Moscow to a father who was a tenant of a ministerial steward and to a mother descended from the Abyssinian black who became the adopted godson and personal secretary of Peter the Great. Sergey Lvovich, Alexander's father, was more interested in drawing rooms and theaters than in his estate, which he left to the mismanagement of his wife, Nadezhda Osipovna Hannibal.
With curly, chestnut-colored hair, Alexander was a sallow, thick-lipped, and dreamy-eyed child. Neglected by his parents, who preferred his younger brother Leo and his elder sister Olga, he turned to his nanny, Arina Rodionovna, who regaled him with legends and songs about wizards, princesses, knights-errant, and elves. He also enjoyed the company of his maternal grandmother, Marya Hannibal, and it was at her country estate that Pushkin learned to love his native language.
As soon as he was old enough to read, he had a number of tutors, but he was a poor student. In 1811, he entered the lyceum in Tsarskoye Selo, a school instituted and sponsored by imperial decree, where he studied everything from religion and philosophy to swimming and horsemanship. At age fourteen, Pushkin published his first poem, "To a Poet-Friend," in the well-respected European Herald. His official entry into the literary world occurred on January 8, 1815, when, as part of his qualifying examination for the upper school, he recited his own poem "Recollections of Tsarskoye Selo" before distinguished guests. His remarkable use of language, rhythm, onomatopoeia, and references to myth established him as a prodigy.
During 1817, Pushkin's last year at school, he befriended hussars stationed at Tsarskoye Selo and joined them in bouts of drinking and gambling. After his graduation, he was appointed to the Ministry of Foreign Affairs, but in 1818 he joined the Society of the Green Lamp, a literary club with liberal political leanings. The next year, he was suspected of collaborating with revolutionaries. Further complications arose with the publication in 1820 of his long poem Ruslan i Lyudmila (English translation, 1936). This poem created enormous controversy, winning praise for its epic quality but drawing condemnation for, among other things, its atheism. Pushkin was forced into exile on Ascension Day, May 6, 1820. He spent the next few years in the south of Russia, especially in Yekaterinenshtadt, the Caucasus, and Kishinev.
Life's Work
Befriended by Nicholas Raevsky, the younger son of a general celebrated for his exploits in the Napoleonic Wars, Pushkin was invited to holiday with the Raevsky family in the Caucasus, which fueled his imagination for his poem Kavkazskiy plennik (1822; The Prisoner of the Caucasus, 1895). Raevsky's elder brother Alexander was the model for the poet's sneering Mephistophelean hero in "The Demon" of the same year.
As his literary fame increased, so did his social notoriety. He continued to be extravagant in misconduct, surviving a duel against an officer whom he had accused of cheating at baccarat and using the incident in his short story "Vystrel" (1831; "The Shot"). Pushkin finally resigned from the government in 1824, but the emperor transferred him to the Pushkin estate in the deserted province of Mikhailovka, near Pskov. There he lived in sparse, unheated quarters, without books or his customary amusements. He wrote to friends requesting copies of works by William Shakespeare, Friedrich Schiller, Johann Wolfgang von Goethe, George Gordon, Lord Byron, Miguel de Cervantes, Dante, Petrarch, John Milton, and Tacitus.
Engrossed in his own idiosyncratic activities, he neglected the family farm. During this period, he completed Tsygany (1827;
(The entire section is 2,463 words.)