Biography
(History of the World: The 17th and 18th Centuries)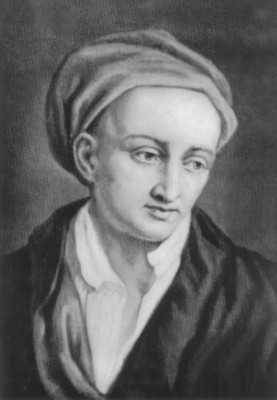 Article abstract: The major English poet in the neoclassical tradition, Pope also wrote critical introductions to his edition of the works of William Shakespeare and his translation of Homer's Iliad and took up important critical concepts in An Essay on Criticism and certain others of his works in both verse and prose.
Early Life
Alexander Pope was born May 21, 1688, in London, of Roman Catholic parents, his father being a well-to-do merchant. When he was small, the family moved, apparently first to Hammersmith, and then, in 1698, to a small house on a large property at Binfield in Windsor Forest. The move from London was partly or wholly to avoid what had become a law forbidding Roman Catholics to live within ten miles of Hyde Park Corner in London. Pope attended two Catholic schools, one near the home in Binfield, the other, oddly, at Hyde Park Corner. His regular schooling ended at age twelve. At about that age he became afflicted with Pott's disease, a lifelong problem both because of frequent serious pain and because it left him a humpbacked dwarf.
Pope turned to writing verse in early adolescence, having read widely in classical, French, English, and some Italian literature. An early poem, which he sent to Henry Cromwell in 1709, made him known to a number of established writers; they encouraged him to seek a publisher for his Pastorals, written when he was sixteen and published in 1709. The resultant friendships caused him thereafter to spend much time in London. He never married, and while he had close woman friends, particularly Martha Blount, he almost surely had no sexual relationships.
Life's Work
Other poems quickly followed the Pastorals: An Essay on Criticism (1711), "The Messiah" (1712; published in Joseph Addison and Richard Steele's The Spectator, although Pope and Addison later became enemies), The Rape of the Lock (1712, and, in longer form, 1714), Windsor Forest (1713), the first portion of his translation of the Iliad (1715), and, in 1717, a volume collecting his works to date and adding two new poems, "Verses to the Memory of an Unfortunate Lady" and Eloisa to Abelard. All of these poems and all of his later important poems are in heroic couplets (iambic pentameter couplets, rhymed), the popular verse form of the neoclassical period and the form of which he was the outstanding master. ("Neoclassicism" is a term referring to the admiration of, and patterning after, the work of the ancient writers of Greece and Rome, especially Rome. Pope, for example, patterned some of his work after the Roman poets Horace, Ovid, and Lucretius, and used some of the literary types that the Romans used, such as epic, satire, and epistle.) Regarding the more important of the poems through 1717, An Essay on Criticism was the last and best of a long series of poems on literary theory and practice in Italy, France, and England during the Renaissance and the seventeenth and early eighteenth centuries, the more or less distant origin of which was Horace's Ars Poetica (c. 17 b.c.e.; The Art of Poetry), although Pope's differed from all the earlier ones in being addressed to critics rather than poets. The Rape of the Lock is the most delightful and important of English mock-epics, a popular neoclassical genre. It is a kind of mockery of the idle, fashionable, upper-class life of his day, with the major characters, under fictitious names, recognizable to most contemporary readers as living persons. Its climactic point is an event which had actually occurred, a young man's "rape" (that is, the cutting off as a souvenir) of a lock of hair of a greatly admired belle—a trivial act but by no means regarded as such by the belle. The poem's later form includes, as actual epics do, some—in this case trivial though interesting—supernatural beings. "Verses to the Memory of an Unfortunate Lady" and Eloisa to Abelard show Pope succeeding in writing emotional poems involving love and death,...
(The entire section is 1,915 words.)